Vectrax - RF-401V/3 VTX - Floor & Bench Drill Presses Stand Type: Floor Machine Type: Drill Press
Mfr Part #: RF-401V/3 VTX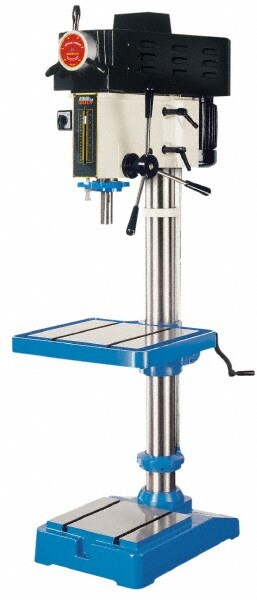 Rotate
Alternate View Thumbnails
Would you like to provide feedback on this item?
Item Notes

Features and Benefits
Floor drill presses, also known as standing drill presses, offer more power options than bench drill presses. They are most suited for heavy-duty operations.
Drill presses are used for several for countersinking, counterboring, drilling, reaming and tapping operations.They are either mounted to a workbench or secured to the floor.
Variable speed pulleys are driven by a V-shaped belt system and a variable speed assembly that regulates an infinite speed range change by the turn of a dial.
Three-phase refers to three individual lines (coils) that connect to and run voltage through the motor. Each line alternates in a sequence as they reach their voltage peak. They provide a more stable flow of voltage and more horsepower to the equipment.
Specs
Floor & Bench Drill Presses; Stand Type: Floor; Machine Type: Drill Press; Radial (Yes/No): No; Swing Distance (Inch): 20; Spindle Speed Control: Variable Speed Pulley; Phase: 3
Spindle Speed Control
Variable Speed Pulley
Spindle Travel Length (Inch)
6-1/2
Number of Spindle Speeds
variable
Minimum Spindle Speed (RPM)
170.00
Maximum Spindle Speed (RPM)
2000.00
Spindle to Column Distance (Inch)
10
Table Width/Diameter (Inch)
19
Table Slot Size (Inch)
1/2

Mfr Part #:
RF-401V/3 VTX