You can be layered up to your eyebrows—long underwear, a couple pairs of socks, scarf, headband, earmuffs, gloves and that animal head dress that kept Leonardo DiCaprio warm in The Revenant—but inevitably it happens…those fingers and toes start to go numb.
 
Why? Priorities.
 
Our bodies are designed to regulate our temperature. When it's cold outside, your body makes sure to keep the blood flowing to your core to help vital organs stay warm (check out this Toolbox Talk for more on that). This can change the amount of blood flow to your hands and feet, making them feel cold.
OK, so that seems a reasonable response from our bodies. Pretty amazing, actually. But then what? Must we sacrifice our little piggies to keep those vitals pumping?
 
*Warming packs have entered the chat*
 
Of course, air-activated warming packs are nothing new, having warmed up the hands, feet and toes for all those venturing out into the deep freeze—sledders, skiers, hunters, Green Bay Packers season ticket holders—for about 100 years.
What has changed over that time are your options—both in the variety of warming packs and the availability of winter gear designed to integrate warming packs.  But first, a quick science lesson…
HOW DO HAND WARMERS WORK?
It might surprise you to learn that warming packs are filled with all-natural ingredients—iron, carbon and salt among them. To activate, simply open the pack. The ingredients will begin to heat up as soon as they're exposed to oxygen (by way of the oxidation process). No batteries to bring along or forget. You can also shake the pack to speed up the warming process.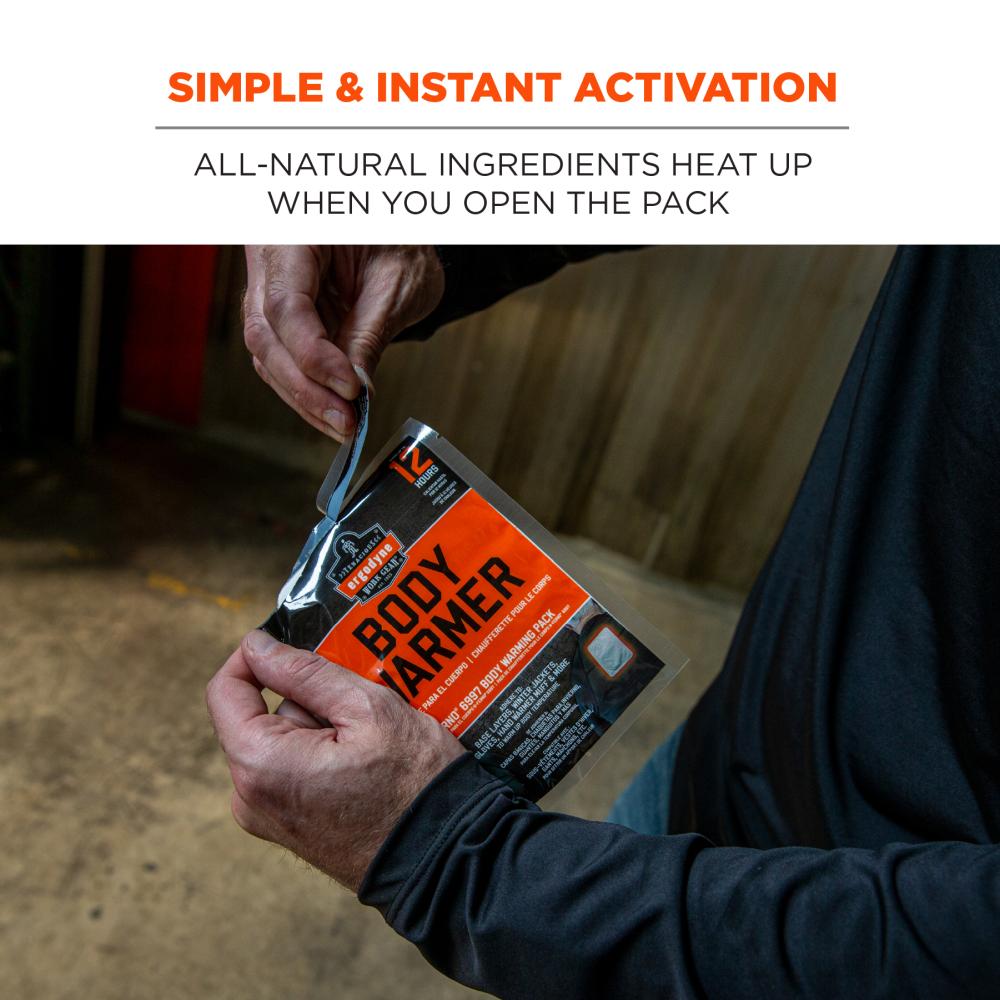 And because they're made with non-toxic materials, the question of "how to dispose of hand warmers" is a simple one to answer—your regular ol' trash bin.
Pro tip: If you only need the warmer for a short time, pop it into a zip lock bag to put activation on hold (because it needs air to do its thing, remember?).
HOW HOT DO HAND WARMERS GET?
Different brands, different answers. Ergodyne N-Ferno Hand and Body Warmers have a minimum temperature of 104°F, an average temperature of 127°F, and a maximum temperature of 149°F. Ergodyne N-Ferno Toe and Foot Warmers have a minimum temperature of 102°F and a maximum temperature of 113°F.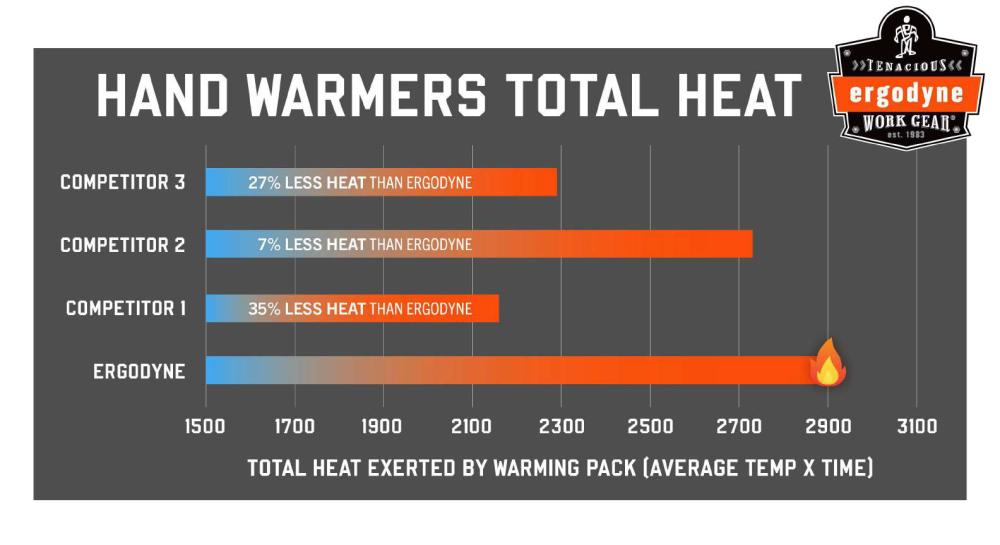 WHAT TYPES OF WARMING PACKS ARE AVAILABLE?
HAND WARMERS
N-Ferno Hand Warmer Packs keep hands free from chill for up to 12 hours. They are small (2.17"W x 3.74"D) and low-profile to easily slip into tight or small spaces.  Plus, they're disposable and compact for easy toss and go.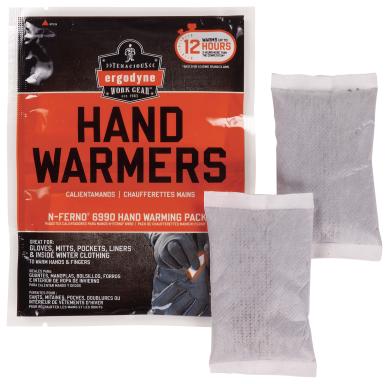 TOE & FOOT WARMERS
N-Ferno Toe Warmers offer extended heating action for up to 7 hours of warmth, while N-Ferno Foot Warmers offer 8 hours. Warmers are made specifically for the toes—an area at risk no matter how many socks you wear. Adhesive toe warmers attach to socks for easy and durable wear. Hot packs fit inside any shoe or work boot without adding too much bulk so you can stay on the move. Packs activate quickly when exposed to air. Small warmers easily fit into work bags or jacket pockets. After seven hours of warmth, you might want to open another packet if you're still working or trekking.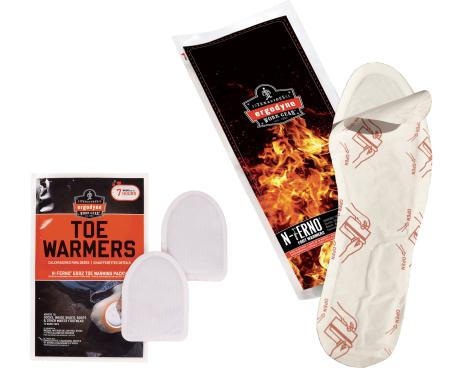 BODY WARMERS
N-Ferno Body Warmers adhere directly to clothing for up to 12 hours of warmth where you need it most. With an adhesive back, these air-activated heat pads are easily and securely applied to base layers or the interior of jackets, gloves, hand warmer muffs and more. Designed to cover larger areas such as the chest or back, they measure 3in x 5in // 7.6cm x 12.7cm. Warming packs should never be applied directly to the skin.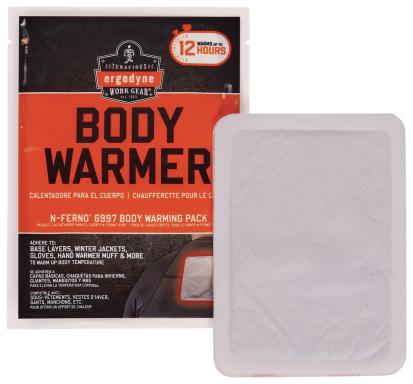 VARIETY WARMING PACK
Looking for heating all over? Ergodyne also offers a variety pack of warmers to keep you toasty from your head to your toes with 5 individually wrapped pairs of hand warmers, 5 body warmers and 3 pairs of toe warmers.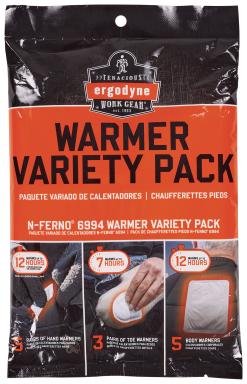 A BOOST OF WARMTH FOR YOUR WINTER GEAR
Some super clever brands (ahem) have even gone as far as incorporating compartments for warming packs in their thermal gear.
HANDS
Back-of-hand pockets for storing warming packs are becoming increasingly common on winter gloves like the ProFlex 825WP Winter Work Gloves.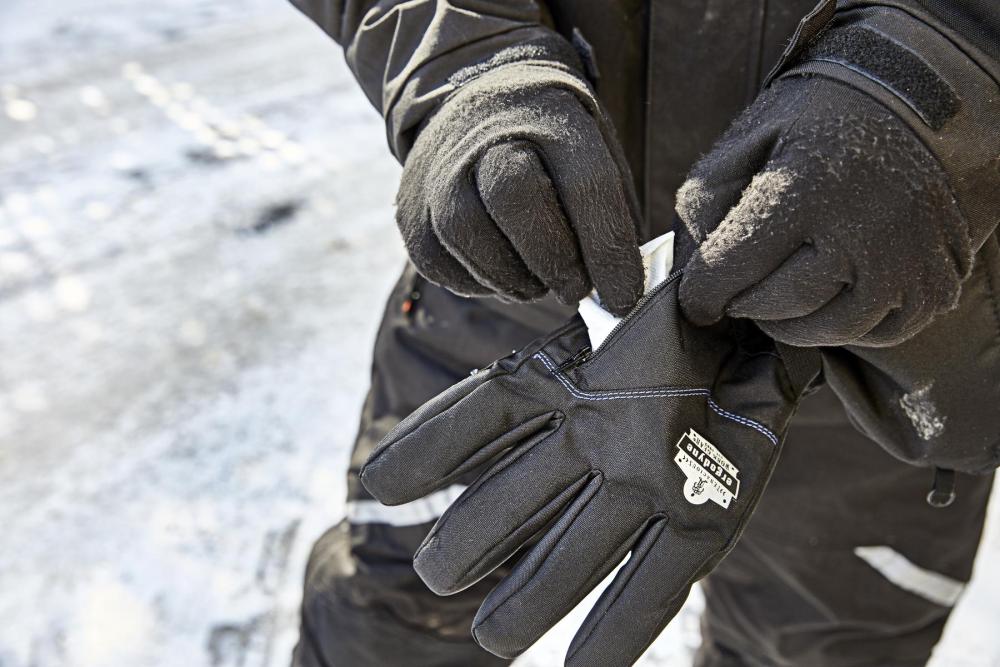 Thermal hand muffs (like the kind your favorite QB wears during that mid-December game in Buffalo) are a popular choice for folks that like to keep their fingers as free and nimble as possible, and the N-Ferno 6980 Winter Hand Warmer Muff is designed with two interior pockets to fit hand warming packets for added warmth.
HEAD
Thermal liners help work crews winterize their hard hats, and the Ergodyne line of N-Ferno Hard Hat Thermal Liners includes models with interior warming pack pockets located near the ears for those exceptionally cold days.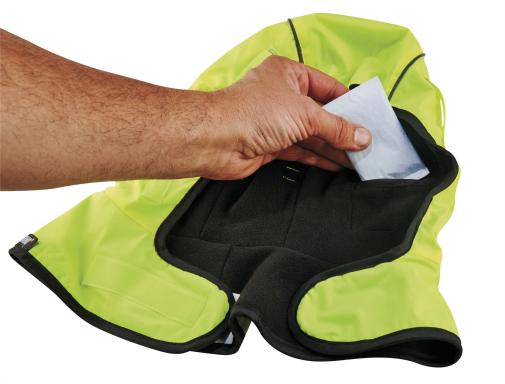 BODY
Most jackets these days come with interior pockets – including the N-Ferno 6468 Heavy-Duty Work Jacket. These zippered pockets are the perfect pouch for compact hand warmers. No pockets? No problem. N-Ferno 6997 Body Warmers feature an adhesive back to stick in place and offer that same toasty warmth.

HOW ELSE CAN I USE WARMING PACKS?
Workday or weekend, these little heaters are cold weather multi-taskers…
Sleeping bags: Throw a pair of activated hand warmers in the bottom of your bag to get toastier faster.
Food + drink: Keep food warm by slapping a body/foot warmer or two on the outside of your Tupperware container or by dropping a few hand warmers into your insulated lunch bag. Stick a warmer to the outside of your mug to keep that cuppa Joe warm, too.
Socks or mittens: Put hand warmers in socks and gloves/mittens in the hours before you head out to "pre-heat" them for use.
Camera + phone batteries: Cold weather zaps batteries quickly. Keep extra camera batteries or your phone in an inside pocket with a warmer to preserve battery life (just be careful not to overheat!).  
Cramps + muscle soreness: Wrap up your hand warmer in a cloth and apply to the area. It should give you the same relief as a heating pad. Just do not hold them directly against your skin.
And did you know that once you've used up your hand or toe warmers, you can still use them to soak up moisture? Try sticking your phone in a bag with your used hand warmers next time you drop it in the snow.
DON'T LEAVE HOME WITHOUT 'EM
For a palm-size disposable, warmers pack a lot of versatility.
But job one for warmers is to keep our hands and toes as toasty as those chestnuts roasting on an open fire. They're just what workers in cold outdoor weather ordered—on frozen construction sites, emergency midnight utility jobs, while landscaping, hauling lumber and mining. They also come in "handy" in indoor cold environments jobs such as you find in some drafty warehouses and cold storage facilities. Warming packs also hit the trail and give you extended hours of heat while hiking, skiing, biking and winter camping. Or if you simply want to take a nature walk in a winter wonderland.

When venturing out into the cold, don't leave home without warming packs—mini heating pads without cords or batteries— that give you extra hours of warmth on vulnerable places your body needs the most. But be sure to pack an ample supply. When you're feeling the chill, it's better to have too many warmers than not enough.
Previously Featured on Ergodyne's blog.
Visit MSCDirect.com to browse Ergodyne's selection of hand and foot warmers.