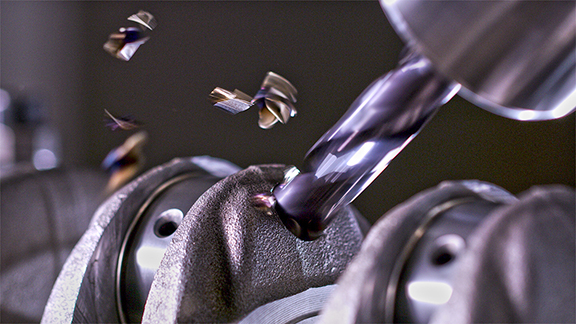 Given recent advances in coatings and geometries, it's clear that yesterday's solid carbide drills can't compete with the new kids on the holemaking block, as described here by representatives from two of the industry's leading cutting tool manufacturers.  
The HPX Factor
One of these innovations is Kennametal's new HPX Series, designed for high-performance holemaking in ISO-P steel alloys. Product manager Frank Martin says the HPX provides up to twice the tool life and three times the metal removal capabilities of competing drills in 8620, 4140, A36 and other alloy steels. That's due to several recent advancements, including a patented, self-centering point gash, a straight cutting edge for reduced buildup, rounded margin lands and polished flutes. Kennametal has also eliminated the traditional tapered web in favor of one with a continuous cross section, which is said to increase stability.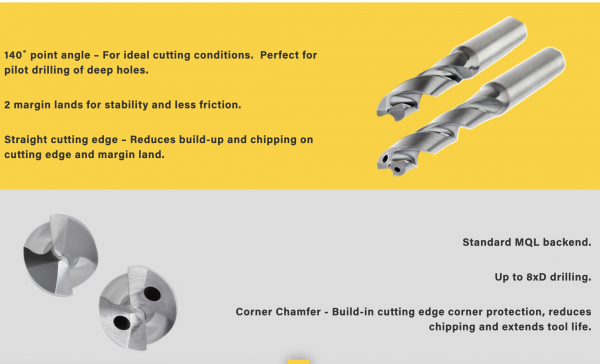 Hard, but Tough
The vice president of product management and business development at Guhring ticks off an equally impressive attribute list, adding that modern drills are also much tougher than those of even a decade ago. 
For example, our RT100XF high-performance drill is now available in a new grade, K40XF, which retains the hardness of carbide but is tough enough for interrupted cuts and similarly abusive applications.
It also makes these drills more suitable for less-than-rigid or manual machining environments, applications that often have shops reaching for high-speed steel tools, due to the steel's greater toughness and flexibility. Granted, Hull suggests dropping feed rates by roughly 50 percent when breaking into a cross-hole or starting on an angle with solid carbide drills, yet this is a small price to pay given that carbide runs four to six times faster than HSS, especially when coated with one of the many multilayer coatings now offered by most cutting tool manufacturers. 
Have you met Guhring's RT100XF?
What types of drills do you find most useful in your shop? Are you rethinking your drilling capabilities? Have you used any of the newest drills on the market yet?