Three generations of an Ohio family have quietly grown into a high-volume manufacturing business supplying aerospace, automotive parts and commercial parts. Read how Millat Industries builds strong partner relationships and leverages lean manufacturing principles to its success—and its longevity for over 53 years.
Automotive manufacturing in the U.S. is a major force within the U.S. economy: It makes up 3 percent of GDP and is responsible for more American jobs in manufacturing than any other sector.
This vibrant manufacturing segment also accounts for significant export dollars: From 2014 through 2018, the automotive manufacturing industry exported more than $692 billion in parts and vehicles—and eclipsed the aerospace industry by $50 billion, according to the American Automotive Policy Council (AAPC).
"U.S. auto production has more than doubled from 5.6 million vehicles produced in 2009 to 11.3 million vehicles last year [2017]," notes AAPC in its 2018 report "State of the U.S. Automotive Industry."
To better understand today's automotive sector, we talked to Dayton, Ohio-based Millat Industries, which has been in business since 1966. Five decades later, Millat Industries now employs 175 associates across its three plants and is led by brothers Zach and Adam Millat—who are the third generation to help run and manage the business. The brothers run Millat's three manufacturing divisions in automotive, aerospace and commercial parts making and serve 65 customers.
Millat Industries: The Automotive Parts They're Manufacturing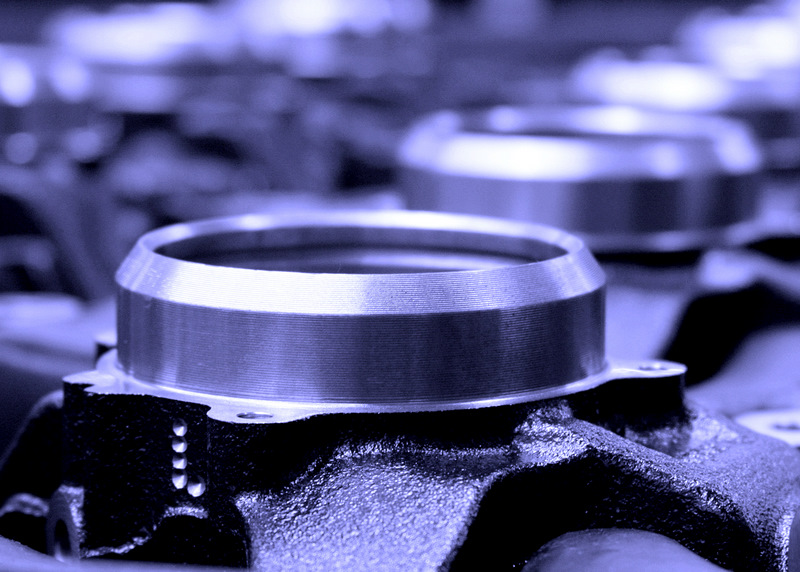 On the automotive side, the company is a large-volume precision machining operation making in excess of 40,000 parts a day. It also handles some supplier management and some minor assembly operations, but its core strength is in machining and metalworking.
"Currently, we're making main engine bearing caps, which is at the heart of the engine and very mission critical for our customers," says Zach Millat. "We're also making a variety of engine and suspension brackets that are all machined from iron or aluminum castings."
Other automotive parts include several covers that go on to engine components that are made out of aluminum die castings and what's commonly known as steering knuckles machined out of ductile iron castings.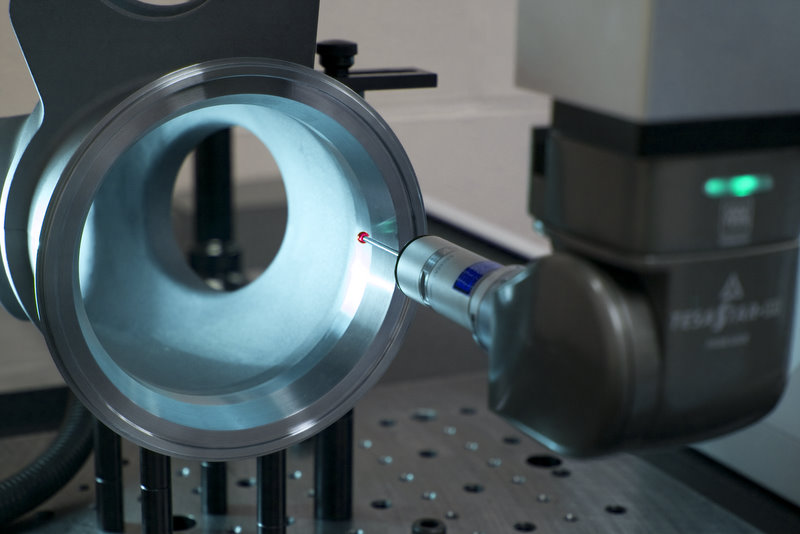 Most of these parts range from about half a pound all the way up to 25 pounds—but not 100- or 150-pound pieces. These are parts that can be lifted easily by machinists.
Millat Industries: Industrial Robotic Arms on the Shop Floor, Including One from Jurassic Park
Millat currently has about eight robotic arms currently in use today. It started using one of them back in the late 1990s after the movie Jurassic Park came out. In fact, the company bought one of the Mitsubishi robotic arms that was used to move incubated dinosaur eggs around in the film.
Named "Hollywood," the arm was in production for about 15 years doing material handling and inspection. It tended a parts washer and performed camera operations on aluminum die casting parts for an automotive air conditioning compressor.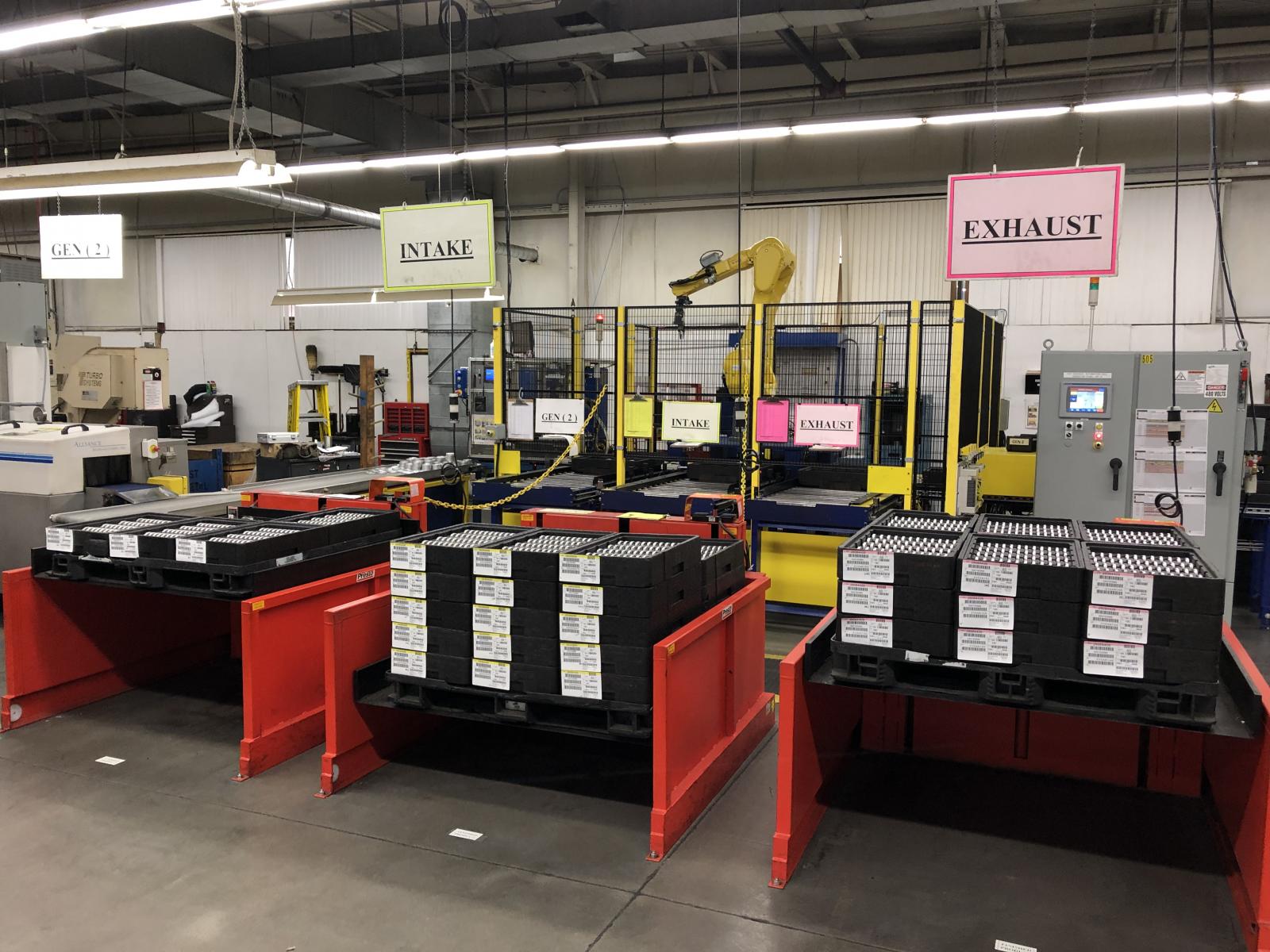 Hollywood came on the scene before Zach and Adam were running the operation, but they believe the company has really upped the ante on automated production in the time since. Though it's not without its own set of hurdles to jump.
"It's fair to say we've really upscaled the sophistication of the automation cells we've installed within the last five years," Zach says. "They're making them more robust. But it can be a little bit of a challenge to integrate today's robotics with the rest of your systems. Also, there's work to get everything programmed to your needs."
That's not to say the company isn't up to the challenge—nor are its employees wary of being replaced by machines.
"We've always found that our associates and people really want to learn about those kind of systems and to be involved in learning how to work with them, so there's really not the stigma of them taking anyone's job here," he says.
The general challenges are around dealing with all the logic needed for a robot, to understand how to leverage the different prototyping and production scenarios that you have to consider before implementing these systems.
At this point, a robotic arm is a commodity, say the Millat brothers, but there is a lot of testing needed to use them. It's a more complex custom designed system than a CNC machine. It has a variety of electrical controls and mechanical elements that are very different.
"One of the toughest aspects of the automotive side are defects," says Adam Millat. "Maybe the defects are only 1 out of 20,000 that a robot drops a part, but at the volumes we do, that might be once every day still. So we're really focused on driving defects out of our operation."
Learn how adding automation to industrial production tasks can escalate your competitive edge. Read "Getting Robot-Ready in Metalworking with Cobots."