Blasting media is used for cleaning, finishing, deburring and peening applications. Round spherical particles leave a smooth finish that slightly peens the surface. It is ideal for work where tolerances are important. Angular or harder and sharper materials clean faster by penetrating deeper.
Blasting Media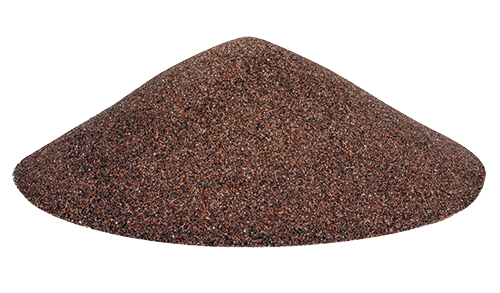 Grit/Grade:


Grade: Abrasive grade is important to the final finish of the product. Use a coarser grade for removing large amounts of material over a larger contact area. Use a finer grade on smaller contact areas where the final finish is important.

Grit: Use larger grits/coarser grades for removing more material over a larger contact area. Use smaller grits/finer grades where the final finish is important.
---

MATERIALS:
Aluminum oxide is the most commonly used abrasive. It is tough, fast-cutting, economical and fracture-resistant. Commonly used on ferrous alloys, high-tensile materials and wood. Applications they are used on include paint, rust and coating removal. Best suited for general-purpose deburring, blending, plating and welding.

Aluminum oxide - glass bead mix is typically made up of 70 percent glass bead, 30 percent aluminum oxide. It is used when aluminum oxide results may be too harsh.

Crushed glass is an angular shaped blasting media for aggressive surface profiling, removal of paint, epoxy and other coatings. Crushed glass is free of heavy metals such as lead, asbestos and titanium.

Silicon carbide is a fast-cutting abrasive and the hardest blasting media available. The very fast cutting speed along with the material harshness will reduce blasting time. Contains no free silica and does not create static. Can be recycled multiple times. Commonly used on nonferrous metals and in low-pressure applications.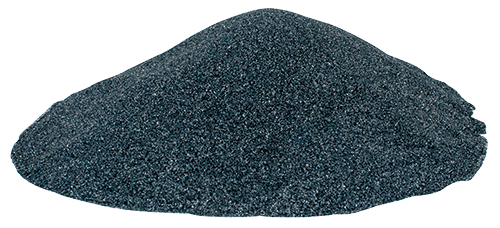 Garnet is a fine-cutting abrasive used for quick removal of rust, corrosion and coatings from substrate. It is also used for removing burrs and preparing metal for coating.

Glass bead is used in blast cabinets for honing, polishing, peening, finishing and removing light burrs. It produces a clean, bright, satin finish without dimensional change of the part. It can also be used for peening without over stressing the metal.

Walnut shell is an angular shaped media for cleaning soft metals such as aluminum. This media will not affect the substrate.

Media Efficiency Rating
Glass
Bead
Garnet
Crushed
Glass
Walnut
Shell
Silicon
Carbide
Aluminum
Oxide
Aluminum Oxide
Glass Bead Mix
Cleaning Speed
Med
High
High
Med
High
Med/High
High
Cleaning Metal
Med
Good
Good
Low
Very Good
Good
Med
Blast Pressure
20-60
60-100
20-50
20-60
20-90
40-90
20-60
Metal Removal
Very Low
High
Low/Med
Low
High
Med/High
Med
Hardness (MOH Scale)
5.5
7.5
5.5
1-4.5
9
9
5.5-9
Shape of Granule
Spherical
Granular
Spherical
Granules
Angular
Angular
Spherical/Angular
Dust Level
Low
Med/High
Low
Low
Med
Med
Med
Continued Use Ability
Med/High
Med
Low
Low
Low/Med
Med/High
Med/High
---

More Blasting Equipment from MSC:
MSC carries all the sandblasting equipment you will need for your facility. Select from a variety of choices in abrasive sandblasting equipment to ensure your application are successfully accomplished.

Sandblasters clean, strip and finish large metal surfaces. They also remove paint, rust or any other surface material. Select from free standing cabinets, bench-top cabinets, hand held and portable kits.


Guns & Nozzles can make all the difference when blasting media. Create a uniform pattern when using fine-to-medium grains by controlling the way the abrasive media flows while working. Find an extensive array of nozzle and jet materials including aluminum, tungsten carbide and hardened steel.


Sandblasting Cabinet Accessories can help make your cabinets perform continuously at peak performance. Select from cabinet replacement parts, dust collectors, turntables, underlayment and filter bags.