Speed to market is more important than ever. Increasing pressure from customers and the frenzy of trying to beat competitors often forces companies to allow their MRO spend and TCO to skyrocket in order to hit tight deadlines.
By building a strategic framework that uses inventory more effectively, identifies hidden costs and eliminates inaccurate MRO data, you can bring your company sustainable productivity improvements and cost savings to lower your TCO while still meeting your customer expectations.

REFOCUS: THINK BIGGER TO DISCOVER OPPORTUNITIES TO REDUCE TCO AND INCREASE OPERATIONAL EFFICIENCIES
To effectively reduce your TCO you've got to look at the big picture. Three areas to focus on are using assets more efficiently; looking past piece price for hidden cost drivers; and paying closer attention to your MRO product data.
REDEFINE YOUR APPROACH TO DRIVE DOWN COSTS ACROSS YOUR MRO SUPPLY CHAIN
Most often, companies lack the analytics, insights and expertise to leverage data and technology across their enterprise to optimize supply chain management. MSC's proprietary methods bring another set of eyes to your business to support you in attaining both near term AND sustainable process improvements and cost savings to lower your TCO.

TURN INSIGHTS INTO ACTION
Yes, I want to learn about MSC's unique solutions to help me increase operational efficiencies and reduce TCO across my enterprise. Email Us.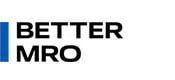 Built to make your business better, Better MRO is your everyday resource, providing you access to over 75 years of MRO supply chain expertise when you want it and need it. Visit Better MRO for information on how to reduce your TCO and optimize your enterprise with the latest technology and solutions. Better MRO provides the resources you need to give you the competitive advantage you want.
Related Better MRO Articles