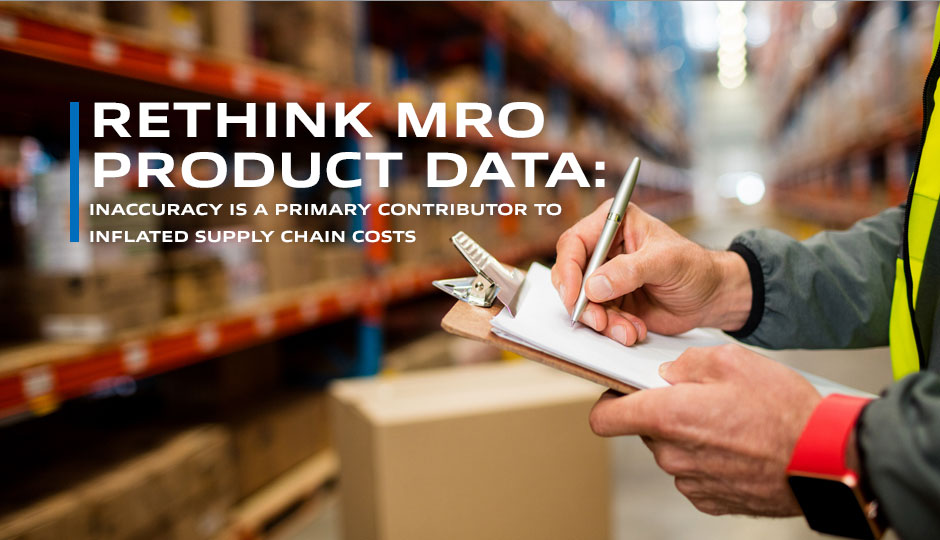 WRONG INFORMATION ON EVEN LOW-PRICED PARTS HAS A HIGH COST
Someone on the plant floor ordered a part, but got the wrong one. It happens. Maybe more than you'd like to admit. But, with next-day or same-day delivery, the right part is on its way in a hurry. Nothing to lose sleep over, right?
Not quite - because a missing part is preventing a machine from running, which holds up a job and risks a customer deadline you're on the hook for. So, you'll do whatever it takes to get production running again - which means sending a worker out to get what you need right now, at whatever cost.
Before you know it, a $5 part just cost you two or more hours of downtime. And that's an operational inefficiency and financial hit you need to avoid, right?

REFOCUS: ACCURATE PRODUCT DATA IS YOUR BIGGEST ALLY
If you're not paying attention to your MRO product data, it's time to take a closer look. Inaccurate data like missing or wrong item numbers, incorrect specs, or reorder quantities can result in manual intervention, causing potential stockouts, failed 3-way match and order and AP delays, to name only a few issues. How much is data inaccuracy costing your business?
A single bad order isn't enough to rock the boat. But 20 bad orders a day can end up costing you a lot. Let's take a closer look.
BAD MRO DATA COSTS MORE THAN YOU THINK




REDEFINE YOUR MRO DATA GOVERNANCE: MSC CAN HELP
MSC's unique supply chain optimization solutions help increase operational efficiencies, decrease TCO and improve customer satisfaction through improved models and processes for MRO spend management.
We can help you drive real results, like:
Limiting downtime
Reducing liability and risk
Eliminating rogue spend
Increasing spend under management