Deburring wheels are used to clean, blend, deburr, finish and polish metals, composites, plastics and glass. They are available in convolute and unitized construction, generally last longer than conventional abrasives, minimize undercutting or gouging, and provide an extremely consistent finish. There are many factors to consider when choosing a deburring wheel, including type of wheel, abrasive material, grade, density and workpiece material.
Diagram of a Deburring Wheel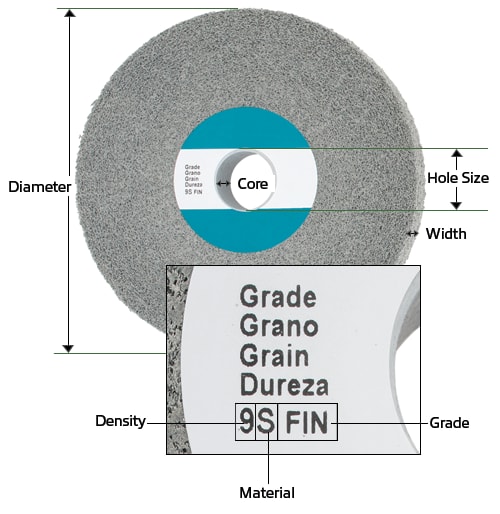 Tip:
Some manufacturers provide a code on the wheel identifying density, material and grade. Density is identified by a number in the first position, material by a letter in the second position and grade by an abbreviation in the third position.


---

Types of Wheels: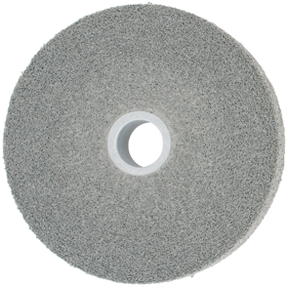 Convolute: Is a wrapped construction on a standard sized core. The outside diameter of the wheel is used for the cutting action. These wheels are unidirectional, which is indicated by an arrow printed on the side of the wheel.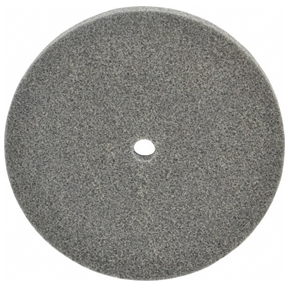 Unitized: Is a layered construction with a selection of center hole sizes and no core. In this construction, both the outside diameter and the sides can be used as the cutting surface. Unitized wheels are bidirectional and are available in smaller sizes that are often more suitable for hand tools.

Density refers to how tightly the wheel is layered or wrapped. Low density wheels conform better to surface contours and generate a more uniform finish. High density wheels last longer and are used for more difficult blending and deburring applications.

Mineral/Material is the type of grain used in the wheel to create the cutting action. Example: Aluminum oxide (A) and silicon carbide (S).

Abrasive Grade is important to the final finish of the product. Use a coarser grade for removing large amounts of material over a larger contact area. Use a finer grade on smaller contact areas where the final finish is important. Grades of wheels can include and be abbreviated as follows: Very Fine (VFN), Fine (FIN), Medium (MED), Coarse (CRS) and Extra Coarse (XCS).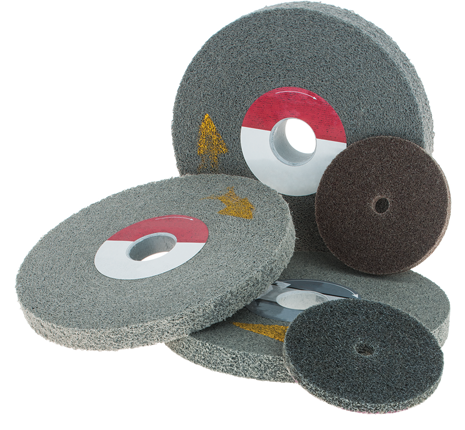 Aluminum Oxide is the most commonly used abrasive. Best suited for general-purpose deburring and blending, it is tough, economical and fracture-resistant. Commonly used on ferrous alloys, high-tensile materials and wood.

Ceramic provides a sharp, high-purity grain that offers cooler cutting and is more durable than natural aluminum-based products. Commonly used for precision grinding of steels, hard alloys and exotic materials.

Fleece is ideal for removing and deburring stainless steel and nonferrous metals as well as creating fine finishes.

Garnet is used on natural woods at the finishing step. The abrasive constantly fractures during use to provide sharp, cutting edges.

Silicon Carbide is a fast-cutting abrasive commonly used on nonferrous metals and in low-pressure applications.

Zirconia Alumina is best for medium-to-heavy material removal and is more durable than aluminum oxide. The material grains constantly fracture to produce new sharp edges. Commonly used on carbon steels, aerospace alloys, nickel alloys, aluminum, cast iron, forgings and some stainless steels.

---

Factors that can affect performance:
Product: Decide what is the most important process in your application (i.e., deburring, blending or polishing), then determine what is the most critical attribute you want from the wheel (i.e., life, cut rate, type of finish, consistency, etc.)

Product Surface Speed: The surface speed of the wheel has a significant impact on performance. Generally, lower speeds are desired for creating uniform satin finishes or when working on softer metals or materials. Higher speeds are generally recommended when removing or blending surface imperfections and tough burrs.

Hardness/Density: Softer wheels (lower numbers) are typically used for decorative finishing. They better conform to surface contours while generating a more uniform finish. Harder wheels (higher numbers) are used for the more difficult blending, cleaning and deburring operations.

Lubricant/Coolant: Coolants, like water and some water-soluble oils, reduce heat and extend product life while increasing cut. In the case of most oils or tallow lubricants, surface roughness can be reduced. The higher viscosity lubricants produce lower surface roughness, i.e., grease produces a finer surface finish than oil. In automatic or semi-automatic operations, it is desirable to use lubricants and coolants whenever possible.

Recommended Operating Speeds (SFPM = Surface Feet Per Minute)

Decorative Finishing:
500-3000 SFPM
Composites/Soft Materials
200-2700 SFPM
Deburring
5000-6500 SFPM
Blending/Polishing
6000-8000 SFPM