Dowel Pins are cylindrical tools designed to secure into machinery by fastening different workpieces together. They are effective when aligning devices during reassembly. Dowel pins are most often associated and used in conjunction with socket screws. They absorb shear loads, allowing the socket screw to take up the tensile loads in an application.
Diagram of standard Dowel Pins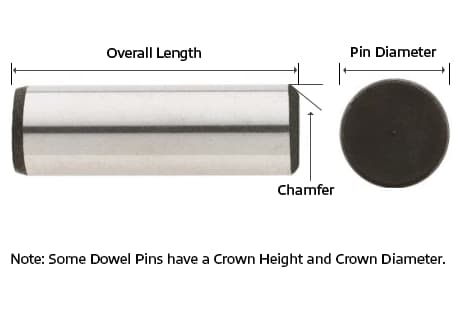 Standards:
In accordance with ASME B 18.8.2, hardened ground machine dowel pins have a core hardness of RC 47-58 and a minimum case hardness of RC 60. Surface finish is 8 microns inch maximum. Dowel Pins are made 0.0002" over a standard diameter and are fit into a reamed hole. Special oversize dowel pins, also called "repair" dowel pins are made 0.0010" oversized, so the damaged hole may be further opened up to accommodate the new pin.
---

Dowel Pin Types: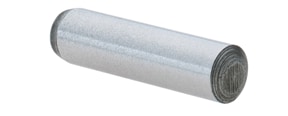 Precision dowel pins are effective in interference fit applications. The dowel pin is specially designed based on hole size, tolerance and ductility.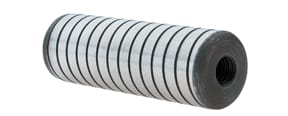 Grooved dowel pins feature grooves along the side for various applications. If the grooves run along only a portion of the pin, the smooth end allows the connected unit to rotate freely. These pins allow for materials to pass through during insertion. They are ideal for blind holes.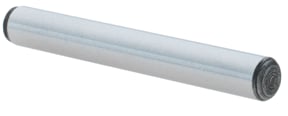 Oversized, also known as press-fit or repair dowel pins, are 0.001 inches larger than standard dowel pins. This allows for damaged holes to be opened wider to accommodate the new pin. They are ideal for fastening into out-of-round holes or softer materials.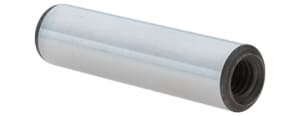 Pull-Out dowel pins feature an internally threaded hole to allow for removal and reuse with a standard screw or pull-out tool. They are ideal for blind holes. A corresponding wrench fits into the dowel pin hole for easy removal. Pull-out dowels are not referenced by any standard of ASTM or ASME, but by custom, have the same hardness as hardened ground machine dowel pins.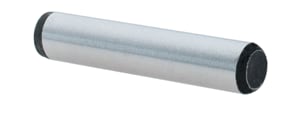 Standard dowel pins fasten parts and maintain consistent alignment. A chamfered end provides easy dowel pin insertion.

Dowel Styles:

Standard round (not vented): Have a smooth finish. Used in through-hole applications. Some offer a flat surface without an internal thread.
Vented: Designed to relieve trapped air. All vented styles are used in blind-hole applications.

Spiral vent: Feature a groove cut from end to end. Internally threaded.
Flat vent: Feature a ground flat chamfer along one side. Internally threaded.
---

Materials:
Alloy Steel is the strongest of all steel types. It has high tensile strength and offers excellent resistance to wear, fatigue and galling.
Case Hardened Carbon Steel is less brittle than carbon steel and will not fracture under high stress.
Stainless Steel is a strong, corrosion-resistant alloy with excellent resistance to heat. It is used in high-stress, outdoor and corrosive applications.
Nylon is a lightweight, nonconductive material that is resistant to impact, wear and abrasion. It is ideal for electrical applications or where corrosion is a concern.
Wooden dowel pins are ideal for furniture building and cabinetry for structural reinforcement. Offered in both fluted and spiral, they are effective for simple repairs and fast joinery.
Operational Tip:
Due to the high hardness design of the pin's surface, a dowel should be pressed into a reamed hole with a hammer made of softer material, rather than hammered or driven. This prevents the pin from shattering and causing injury. Caution: Safety goggles must always be worn when installing dowel pins.
---

More Holding and Alignment Pins from MSC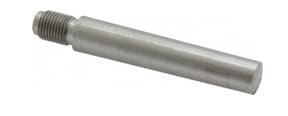 Taper Pins have one end slightly larger in diameter than the other, which results in a uniform taper for simple, effective fastening. They create a stop or wedge in machinery applications where frequent assembly/disassembly is required.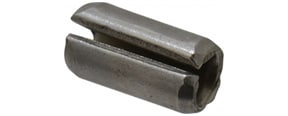 Spring Pins, also known as roll pins, are hollow, self-retaining fasteners that secure multiple components and parts together. They are used in light-duty applications in place of solid dowel pins.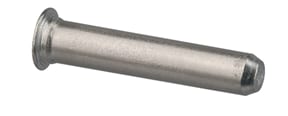 Pilot Pins are self-clinching pins that easily embed in sheet metal and other soft materials. They are inserted into mounting holes for alignment applications.