Basics of... Fall Protection
The Occupational Safety & Health Administration (OSHA) requires that each employee on a walking/working surface 4 feet or more above lower levels (6 feet for construction) shall be protected from falling by a guardrail system, safety net system, or personal fall arrest system. A personal fall arrest system consists of an anchor point, connectors and a full body harness and may include a lanyard, deceleration device, lifeline, or suitable combination of these. These systems, when stopping a fall, shall limit maximum arresting force on an employee to 1800 lbs. They shall be rigged such that employees can neither free fall more than 6 feet or contact any lower level. The system shall bring an employee to a complete stop and limit the deceleration distance traveled to 3.5 feet. The system shall have sufficient strength to withstand twice the potential impact energy of an employee falling the distance permitted by the system.
In addition to the OSHA standards, voluntary standards published by the American National Standards Institute (ANSI) establish performance criteria for systems and provides guidelines and recommendations for their use and inspection. In some cases, these guidelines and recommendations may exceed OSHA requirements; for example, ANSI A10.32 recommends that the maximum arresting force imposed on the user's body shall not exceed 1,000 lbs. (versus 1800 lbs. in the OSHA standard). It is important to consult regulations from agencies governing your industry as well as any general standards. Many of these can be found at websites such as www.osha.gov and www.ansi.org.
There are a number of factors to consider when selecting the proper personal fall arrest equipment:
Identify fall hazard locations, the number of workers exposed, and the type of work being performed.
Consider the presence of any hazards in addition to falls which may impact equipment selection, including but not limited to salt air or spray, chemicals, electrical hazards, flammable or toxic gases, high heat or open flame, welding spark and extreme cold.
Establish a suitable anchor point for connection of personal fall arrest systems. Even if the proper equipment is selected, workers will be at risk if not tied off correctly. Some examples of unsuitable anchor points include electrical conduit, most water pipes, many wooden supports such at 2 x 4's, most wooden or metal railings and any open-ended connection point from which a connecting device can slide or become dislodged. (See section on Anchorage Connectors for suitable anchor points)
Maintain a written fall protection plan, which addresses hazards for each site covered by the plan and training for all workers exposed to those hazards. The plan should include provisions for rescue, including training requirements for rescuers. Training logs for personnel and inspection logs for equipment should be kept.
Belts and Harnesses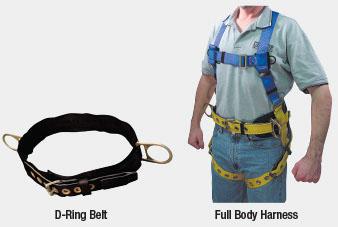 Belts are only to be used for positioning or restraint, not fall arrest. All full body harnesses have a connection point for fall arrest in the back, between the shoulder blades. Harnesses can be purchased with additional connection points, including in the front at chest level for repelling or connection to ladder safety systems, on the hips for positioning or restraint and on the shoulders for retrieval, typically from confined spaces. Additional features may be added based on worker comfort, preference and task to be performed. These include belts, back pads, shoulder pads, seat slings, etc.
Different buckle styles are available on harnesses. If a harness is to be worn by multiple workers, such as for a day shift and night shift, the friction style may be preferable as it adjusts quickly over the full length of the strap. When a harness is issued to one worker, the quick connect style may be preferable as it will retain its adjustment between each use. Finally, the tongue buckle style may be preferable in either application, as it can be readily adjusted for multiple workers, but an individual worker may return the buckles to the same grommets each time the harness is worn.
Lanyards and Lifelines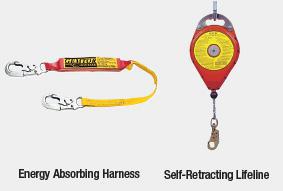 Lanyards and lifelines are used to connect a worker to an anchor point. Systems should be selected to ensure that workers are never impacted with more than 1800 pounds of arresting force. For this reason, rope and web lanyards without energy absorbers should only be used for positioning or restraint. Workers who are close to their anchor point may require a single energy (shock) absorbing lanyard, while workers moving from one anchor point to another may require a twin-leg energy (shock) absorbing lanyard to maintain 100% tie off. If additional mobility is required, self-retracting lifelines or rope or cable lifelines with grabs may be used. Care should be taken to assess the available clearance below a worker and select equipment, which will prevent the worker from striking an obstruction or lower level.
Anchorage Connectors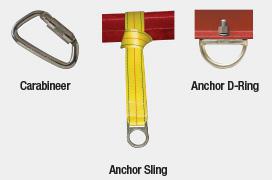 Anchor connectors are used to connect lanyards, lifelines or self-retracting lifelines to a suitable anchor point. Anchor points must conform to applicable fall protection standards, namely, 5000 lbs. strength or twice the expected load. Possible anchor points may include I-beams, H-beams, concrete walls, pillars and forms, and other structures. Anchorage connectors may be quite basic, such as snap hooks or carabineers. They are available in different sizes based on the size of the connection point. For example, a gate opening of 1 inch or less may be sufficient for connection to a D-ring, while a larger opening will be needed to connect to a larger support such as bracing or angle iron. Anchor D-rings are commonly used on I-beams and H-beams with holes. When holes are not available, fixed or sliding beam anchors may be appropriate. Anchor straps can be used in applications where there is structure to wrap around, and can be provided in any length. Rope and cable grabs are used to connect a lanyard to a rope or cable lifeline.
Horizontal Lifelines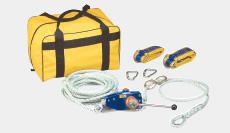 Horizontal lifelines allow increased mobility while protecting workers from falls. Some systems are designed for permanent installation, while others are designed to be removed from one work area and installed in another. Prior to selecting a system, it is important to determine the distance the system must cover (length of system), the available clearance below the worker, the number of workers who will use the system at the same time and the strength requirements for anchor points.