Head protection is one of the most widely used and important pieces of personal protective equipment (PPE) on the job. Reduce the impact of head and neck injury from falling objects with hard hats and bump caps.

OSHA (Occupational Safety and Health Administration) standards require the use of industrial head protection in any work environment that presents a risk of injury to the head. Industrial head protectors worn to reduce the force of impact must meet the specifications established in the most current ANSI Requirements for Industrial Head Protection, Z89.1.
Types of Head Protection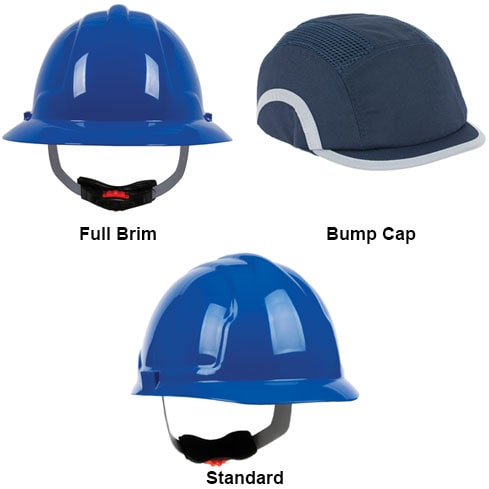 Hard Hats and Bump Caps:
Hard Hats are used for reducing the force of impact from dangerous materials while on the job. Hard hats are available with full brim, short brim and in standard styles.
Bump Caps are used for protecting the head from minor bumps, lacerations and other light injuries. They are used in areas where ANSI-compliant head protection is not required. Bump caps are not designed to protect against falling objects. Some are available with inserts and LED lights on the brim of the cap.
ANSI Type Impact and Protection:
Type I caps and hats provide protection from objects falling overhead, directly onto the top of the helmet. They do not protect from objects that may strike from the side, front, or rear. These are the familiar "hard hats" of conventional design. Type I helmets feature impact, penetration resistance and dielectric performance.
Type II caps and hats provide the same degree of protection as Type I to the top of the head. In addition, Type II helmets have an additional layer of shock-absorbing material which provides a degree of protection against blows to the side, front and rear of the head. These caps and hats may be useful for workers who are not always working in an upright position.

*Both Type I and Type II helmets may be available in any of the classes of electrical protection.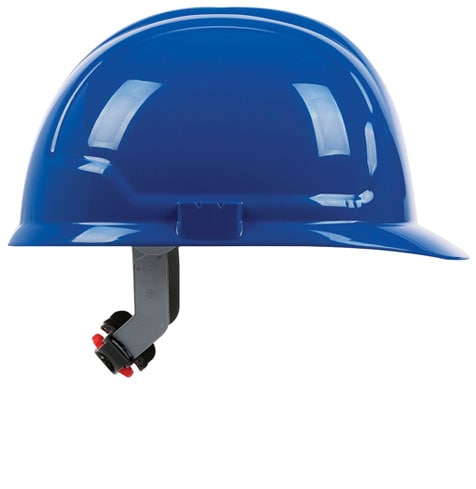 Class Ratings Electrical Protection:
Class rating describes the ANSI standards for the type of electrical protection the hard hat provides.

Class C caps and hard hats are conductive and offer no electrical protection. They are used where there is no possibility of exposure to electric shock or burn.
Class E caps and hard hats are used for electrical applications and protect against contact with high-voltage conductors. They have the highest rating and are tested at 20,000 volts AC for three minutes. Class E caps and hats also meet Class G and Class C regulations. Class E was formerly designated Class B.

Class G hard hats are used for general applications and protect against limited electrical shock and burn. They are tested at 2,000 volts AC for one minute. Class G headgear meets Class C regulations. Class G was formerly designated Class A.

**Note: The voltages listed above are not intended to be an indication of the voltage at which headgear protects the wearer, but only the level at which they are tested.
Mounting Accessories Tip:
Some caps and hats are designed for mounting accessories, such as face shields and hearing protectors. Please ensure that these additions do not adversely affect the product's original degree of head protection. In particular, the use of accessories with metal parts may affect the voltage protection capabilities of Class G and Class E head protectors.
Suspension:
Suspension indicates the number of clips used to attach to the shell of the hard hat. They are available in 4, 6 and 8-point systems. Suspensions with more points can increase the comfort of the hard hat by displacing the shell's weight across the wearer's head. Most protectors have crown straps that form the cradle suspension. In addition, adjustable headbands and brow pads help cradle the forehead and absorb perspiration.
Pin Lock suspensions are designed to insert a strip with pre-distanced pins into a holder with pre-distanced holes.
Ratchet suspensions are designed with a knob on the back end for turning and locking into place.
*Replacement suspensions should only be from the original manufacturer of the hat or cap.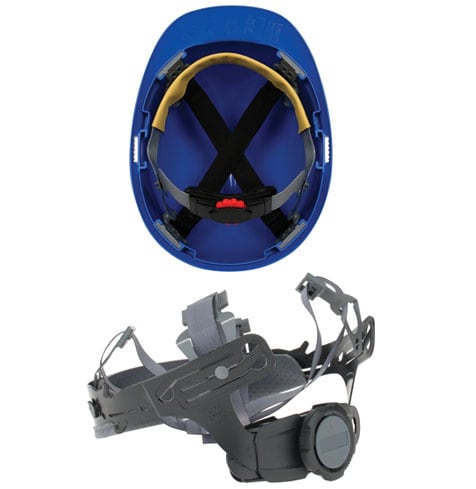 Shell Material Shells are water-resistant, slow-burning and non-irritating to the wearer's skin. They are molded from tough materials including:
Acrylonitrile Butadiene Styrene (ABS) is a high-quality plastic that is hard, tough and chemical resistant. It is commonly used in welding environments.
High-density polyethylene (HDPE) is the most commonly used hard hat. It is a durable, lightweight material made from petroleum and is commonly used in electrical environments.
Polyethylene is made from a derivative of petroleum and natural gas. It is lightweight, tough and used in electrical and construction environments.
Fiberglass is made of a lightweight material that is resistant to cracks, warps and scratches. It is commonly used in high-temperature environments.
Para-aramid composites are extremely lightweight and endure high-temperatures which can resist cracks and chips. It is commonly used in construction, drilling, and refinery environments.
Plastic is lightweight, tough and used in general-purpose environments.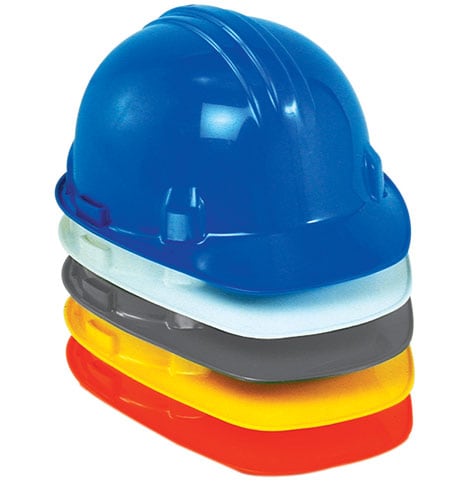 ---

The Use, Care and Replacement of Safety Caps and Hats
Caps and hats have a limited life. While proper use and care will extend this life, all hats and caps should be replaced periodically. Some suppliers recommend replacing suspensions every 12 months and the complete unit every five years.

Important precautions when caring for safety caps and hats:
Increase your feed
Avoid the use of adhesives, paints or cleaning solvents. These may attack and damage the shell, reducing its level of protection. Only a mild detergent and warm water should be used to clean the shell.
Avoid exposure to extreme heat or cold and excessive sunlight, such as in the rear window of a car.
Visually inspect cap or hat daily for signs of wear, dents, cracks or other damage.
Replace shell when signs of damage or wear occur or it has been subjected to impact.
Suspensions and brow pads should be replaced when damage or excessive wear is detected.