Basics of...Hex, Ball End Hex & Torx® Tools
Hex, Ball-End Hex and Torx keys are used to drive hexagon and Torx recess cap screws, including socket head cap screws, countersunk (or flathead) cap screws, buttonhead cap screws, set screws and shoulder screws.

Hex Keys: give you get more contact between the tool and the fastener compared to traditional slotted and Phillips® drive systems. This allows for greater torque. The fastener is also less likely to strip when the screw needs to be tightened and loosened repeatedly during maintenance or when making adjustments.
Ball-End Hex Keys: allow you to turn a fastener at an angle. This will get into hard to reach places, and allows you to remove or tighten a fastener quicker than with a conventional hex key.
Torx® Keys: have star shaped tips, which fit into the Torx® fastener star shaped recess. The Torx® drive system provides even greater surface contact between the tool and the fastener, which provides greater torque and less rounding of fasteners or tools.
Tamper Resistant Torx® Keys: used in applications where you want to limit access to a fastener. The tamper resistant fastener has a pin in the center of the socket, which keeps a conventional key from getting in. The tamper resistant key has a matching hole in the center of its tip.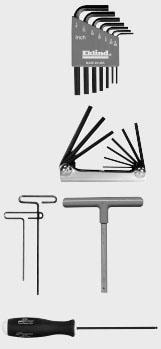 L-Shaped: supplied individually and in sets they are the most common style, available in the widest range of sizes. Insert the short arm tip into the fastener to get maximum leverage. Insert the long arm tip into the fastener to get the maximum reach. L-shaped keys are available in short, stubby or long reach.
Fold-up Tool Sets: gives the user convenient access to the most commonly used hex sizes, and helps keep you from losing individual sizes. Ergonomic handle hex tools provide extra comfort and slip resistance, without sacrificing strength. Steel Fold-ups have the most compact handle.
T-Handle: supplied individually and in sets, they provide greater leverage and greater reach and are also stackable. The bar style grip fits comfortably in the hand and provides the greatest torque. The loop style grip is most compact.
Screwdriver Handle: supplied individually and in sets, they are comfortable and turn easily. Often used in low torque applications such as electronics assembly.