Milling Machines are used for machining solid materials, including metal, plastic and wood, and commonly used to machine irregular and flat surfaces. The cutter is designed to rotate during the operation as opposed to a lathe, where the part itself rotates during the cutting operation. Milling machines commonly have self-contained electric drive motors, coolant systems, digital readouts, variable spindle speeds, and power-operated table feeds. They can also be used to drill, bore, cut gears, and produce slots and pockets.
Diagram of a Milling Machine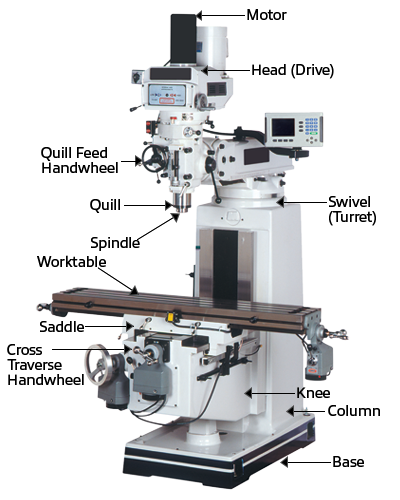 Horizontal and Vertical Mills
Horizontal mills are designed so the cutters are mounted on a horizontal spindle. They are equipped with a rotary table, allowing for milling grooves, slots and other heavier cuts at several angles. They are commonly identified as a universal milling machine.
Vertical mills are designed with a spindle axis that is vertically oriented. The spindle can be extended, or the table raised and lowered, allowing for plunge cuts and drilling. There are two types of vertical mills:
Bed mills, which have a fixed table and a head that moves in a Z-axis. This allows for additional weighted parts to be machined.
Turret mills, which can be moved perpendicular and parallel to the spindle axis.
Spindle Speed Control: Spindle speed control indicates the type of mechanism used to drive the spindle at a desired speed.

Step Pulleys are driven by a belt system that is manually changed to achieve a specific speed. They commonly feature 8 or 16 fixed speeds.

Variable Speed Pulleys are driven by a cog-type belt system and a variable speed assembly that regulates an infinite speed range change by the turn of a dial.

Electronic Variable Speed (EVS) systems feature unlimited speed options within the maximum and minimum speed ranges. The speed is controlled electronically rather than manually by turning a dial. EVS features several speeds within a specified speed range.

Geared Head drive systems offer rapid speed changes by moving the gears in the head, providing three to four fixed speeds.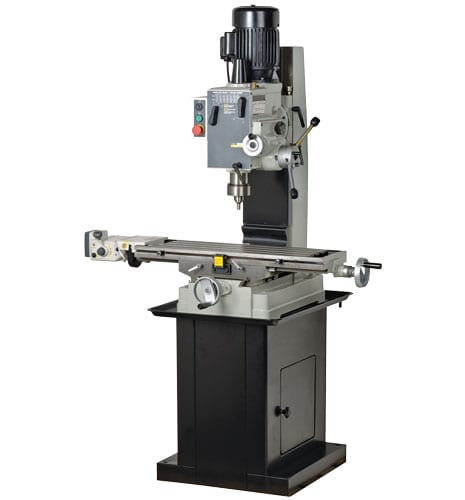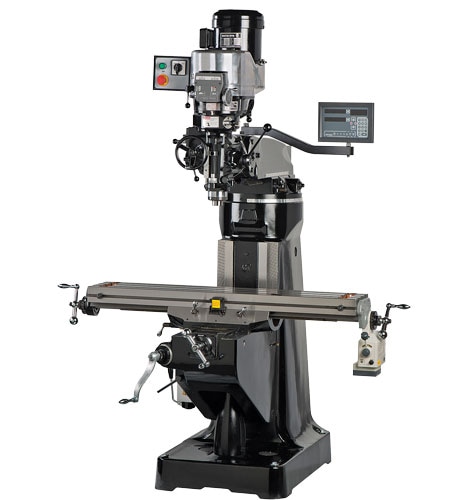 Cross Travel, also known as Y-axis travel, measures the maximum distance that the working surface moves in a forward-and-backward (in-and-out) motion.

Distance Between Centers refers to the distance between the headstock center to a center in the tailstock. It is designed to indicate how long the working area of the machine is.

Knee Travel, also known as Z-axis travel, measures the maximum distance that the working surface moves in an up-and-down (vertical) motion.

Longitudinal Travel, also known as X-axis travel, measures the maximum distance that the working surface moves in a right-to-left (horizontal) motion.

Phase refers to how the current passes through the motor.

Single-Phase refers to one phase line (coil) that connects to and runs voltage through the motor. Single-phase lines are not as efficient as three-phase lines.

Three-Phase refers to three individual lines (coils) that connect to and run voltage through the motor. Each line alternates in a sequence as they reach their voltage peak. They provide a more stable flow of voltage and more horsepower to the equipment.

Travel Distance indicates the measurement in the Y-axis (in-and-out) and X-axis (right-to-left, or horizontal) motion.

Table Length is the measurement of the total table.

Table Width is the measurement of the width of the table.

---

Milling Cutters and Equipment from MSC:
End Mills are used for making shapes and holes in a workpiece during milling, profiling, contouring, slotting, counterboring, drilling and reaming applications. They are designed with cutting teeth on the face and edge of the body and can be used to cut a variety of materials in several directions. Find out more about the types of mills MSC offers and all the applications in which they can be used.



Ball end mills, also known as ball nose end mills, are used for milling contoured surfaces, slotting and pocketing. A ball end mill is constructed of a round cutting edge and used in the machining of dies and molds.
Corner rounding end mills are used for milling rounded edges. They have ground cutting tips that strengthen the end of the tool and reduce edge chipping.
Square end mills are used for general milling applications, including slotting, profiling and plunge cutting.
Milling Cutters are available in a variety of shapes and sizes for various purposes. MSC offers a complete selection of angle, radius, side, T-slot cutters and more to tackle all your machining jobs.



Side Milling Cutters are used in a wide range of operations, including slotting, side and straddle milling. They are available with straight and staggered tooth configurations.
Dovetail Cutters are used for aggressive machining of steel. They are designed with a reverse bevel (inverted cone) that widens and produces a dovetail slot.
Shell End Mills, also known as face mills, are used for heavy stock removal where a wider cut is required. They are used in conjunction with shell mill arbors.
Milling Machine Equipment offers the functionality to your milling machine so it continues to perform optimally. Select from power feeds to machine stands. MSC offers a variety of milling machine attachments, parts and accessories for your operation.