Padlocks Technical Information

Basics of... Padlock Keying Options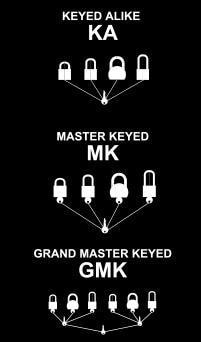 Keyed Different (KD) - Each padlock has its own unique key. All products are made keyed different unless requested otherwise
Keyed Alike (KA) - Keyed alike is a term used to describe a set of padlocks which can be opened with the same key. Keyed alike offers convenience to customers who use numerous padlocks by eliminating multiple keys. Many domestically produced products are available keyed alike.
Master Key (MK) - In a master key system, one key operates all the keyed differently master keyed padlocks or cylinders in a group.
Grand Master Keyed (GMK) - In a grand master keyed system, one key can access two or more separate groups of padlocks or cylinders which are each operated by a different master key.
Restricted (R) - American Lock Company offers restricted key systems with factory controlled keyways. This feature offers added security by restricting unauthorized key duplication.
Key Retaining or Deadlocking - The key retaining or deadlocking option prevents the key from being removed from the padlock while the padlock is open.
Rekeyable - Rekeying is the process of removing a padlock's cylinder and either rearranging the cylinder pins to different locations in the cylinder chamber or completely replacing the pins. Finished replacement cylinders are available from American Lock for a quick and easy rekeying process. The advantage of a padlock with a rekeyable cylinder is that when there is employee turnover or when a key is lost or stolen, the padlocks can be easily serviced rather than replaced. Many American Lock padlocks are available with this feature. A locksmith can remove the cylinder and re-pin or replace it entirely.