Basics of... Respiratory Protection
Respirators are designed to help reduce exposure to certain airborne contaminants. The Occupational Safety and Health Administration (OSHA) standard for respiratory protection (29 CFR 1910.134) lists the minimum requirements for a respirator program. For more information log on to www.osha.gov
Identify Hazards in the Workplace
Examine your workplace to see if there are any of the following airborne hazards:
Dusts - solid particles created by sanding, grinding, etc.
Mists - liquid particles created by spraying, mixing, etc.
Fumes - small metal particles created by welding, smelting, or pouring molten metal
Gases - examples include chlorine, ammonia, sulfur dioxide, hydrogen sulfide, carbon monoxide
Vapors - produced when liquids evaporate, e.g. solvent vapors
Oxygen Deficient Atmospheres - defined by OSHA as air with less than 19.5% oxygen; may be found in certain confined spaces and/or if oxygen displaced by other gases or vapors, e.g. silos, degreasing tanks

OSHA and other groups publish occupational exposure limits for many contaminants. Industrial hygienists are trained to measure the contaminant levels and compare their results to the exposure limits. If the contaminant concentration in the air is above the exposure limit, the best choice is to use a safer material, enclose the process, install local exhaust ventilation or limit the amount of time employees are in the area. According to OHA, respirators are only to be used while these different control measures are being implemented, or if they are not feasible. Some people may also choose to voluntarily wear a respirator, even if they are not exposed above the exposure limit.
Understand the Health Effects
Certain airborne contaminants are not only dangerous to the lungs, but they may also be inhaled and distributed throughout the rest of the body. Some effects may be noticed immediately, while others may not produce health effects until years later. Please see the Material Safety Data Sheet (MSDS) for the contaminant or consult your supervisor, safety officer or human resources for more information.
Respirator Selection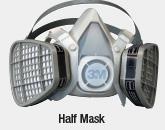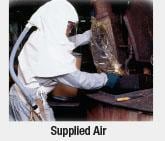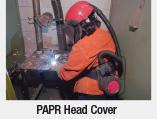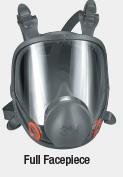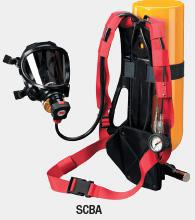 Following are some of the types of respirators approved by the National Institute for Occupational Safety and Health (NIOSH)
Air Purifying - filter, cartridge or canister filters for specific contaminants
Filtering Facepiece (dust mask) - the filter is an integral part of the facepiece
Full Facepiece - respirator designed to seal around the entire face
Half Mask - respirator covering the mouth and nose
Powered Air Purifying Respirator (PAPR) - a fan is used to deliver filtered air into wearer′s hood or helmet
Self-Contained Breathing Apparatus (SCBA) - atmosphere supplying respirator; wearer carries source of breathable air
Supplied Air Respirator - atmosphere supplying respirator; air can be supplied from a high pressure compressor, low- pressure pumps, or cylinders (bottled air) and is delivered to wearer′s hood or helmet
The choice of one type of respirator over another depends on a number factors:
If there is less than 19.5% oxygen, or if the contaminant concentrations are immediately dangerous to life or health (IDLH), a self contained breathing apparatus (SCBA) or combination supplied air respirator/SCBA must be used.
Compare the contaminant exposure level in the air to the exposure limit. For example, if the exposure is 100 parts per million (ppm) in air and the exposure limit is 25 ppm, then you are 4 times over the exposure limit. This is called the hazard ratio
Choose a class of respirator that has an assigned protection factor (APF) greater than the hazard ratio. Assigned protection factors are published by OSHA, NIOSH and the American National Standards Institute (ANSI). For example, half mask respirators with cartridges or filters are usually given an APF of 10. This means that when properly maintained and worn, they may reduce exposure by a factor of 10 (or 90%). Therefore, if the workplace concentration is 100 ppm, exposure would be reduced to 10 ppm. If a higher level of exposure reduction is needed, then a full facepiece, powered air purifying respirator, or supplied air respirator may be necessary
For air purifying respirators, choose an appropriate cartridge or filter for the contaminant
For a supplied air respirator, ensure that the correct pressure and flow of air is available from a compressor or bottled air, and that the air meets the specifications for "Grade D" breathable air
Consider other factors such as weight and comfort of the respirator, workplace environmental conditions, compatibility with other personal protective equipment (PPE), ability of the wearer to breathe through a cartridge or filter, desire for PAPRs or supplied air respirators to blow air across head and face for cooling, mobility requirements (vs. dragging an airline), service life of a chemical cartridge (vs. supplied air), no facial hair, glasses, etc. between the face and the sealing surface of the respirator
Particle Filters
Particle filters are designed to filter various types of particles. Filtering facepiece respirators and filters for negative pressure respirators are rated by NIOSH both according to their filtration efficiency and whether or not they are designed to filter oily mists. The following classification is used:
N - Not for oily mists (e.g. cutting fluids, grinding fluids)
R - Oil Resistant (use up to 8 hours against oily mists)
P - Oil Proof (see time limitations from manufacturer)
95, 99 or 100 are assigned for minimum filtration efficiencies of 95%, 99% or 99.97% respectively. Therefore, a filter or filtering facepiece may be rated as N95, P100, etc. OSHA requires 100 level filters for lead, cadmium, asbestos, arsenic and 4,4'-Methylenedianiline (MDA).
High efficiency particulate air (HEPA) filters are available for powered air purifying respirators (PAPRs).
Chemical Cartridges
Chemical cartridges are available to help filter organic vapors (e.g. solvent vapors), acid gases (e.g. chlorine), ammonia, methylamine, formaldehyde, etc. OSHA requires a cartridge change schedule based on either an "end of service life indicator" (ESLI) or an estimate of the cartridge service life calculated from the use conditions.. Most manufacturers and OSHA have tools to help calculate cartridge service life. Sometimes a gas/vapor cartridge and particulate filter need to be worn together if both types of contaminants are present. Some particle filters include a small amount of carbon or treated carbon to filter nuisance levels of gas and vapors. (Nuisance levels are levels below what is considered hazardous.)
Other OSHA Respirator Requirements

Written program with site specific procedures
Medical evaluations (not required for voluntary use of filtering facepieces)
Annual fit testing of tight-fitting respirators (not required for voluntary use of respirators)
User seal checks of tight fitting respirators prior to each use Procedures for use in routine and emergency situations
Cleaning, maintenance, inspection, and storage
Training of employees ("Appendix D" to 29 CFR 1910.134 is available for voluntary use of respirators)
Evaluation of respirator program effectiveness