Basics of... Choosing a Rolling Ladder
Size Considerations
Select Platform Height, also known as Top Step, based on operations being performed
Platform Height is where the user generally stands. Make sure you have minimum clearance of 6 to 7 feet from the ceiling or any object suspended from the ceiling to insure the user has room to stand safely
Maximum convenient working height is 5 feet to 6 feet above the platform height
Bear in mind that for bulkier or larger packages you should consider using a wider ladder
Consider limitations on ladder dimensions imposed by doorways, isle width and corners the ladder needs to turn. For tight spaces, select a narrow or directional ladder for maximum maneuverability
Note: Load capacity (lbs.) is the combined weight of the user and materials
Climbing Position
The typical incline of a rolling ladder is designed for the user to ascend and descend facing the steps. However, "Stairway Slope" a.k.a. "Walk Down" ladders have a more moderate incline, approximately 50 degrees enabling the user to ascend and descend facing forward which is safer and more stable while carrying heavier and bulky objects.
Material Type
Steel: For all around general purpose
Stainless: For corrosive environment as well as outdoor use
Aluminum: If you prefer a lighter weight. Like Stainless, they are corrosion resistant making them ideal for both indoor and outdoor use.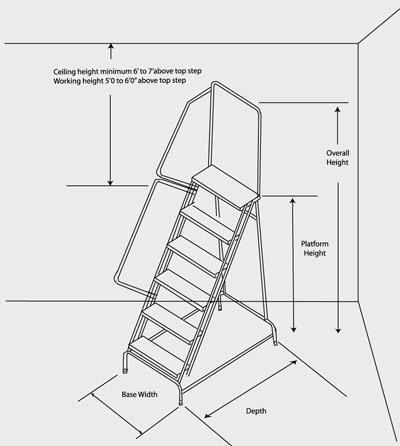 Locking Mechanisms

Spring-loaded Caster: Ideal for shorter ladders 5 steps and below. On this style ladder, the wheels retract under the user's weight securing the ladder to the floor.

Lock Safe Step and Lock Safe Handle: Ideal for ladders over 5 steps. These ladders are raised into the rolling position when the lock step or handle is actuated. Releasing the lock safe drops the ladder into the climbing position with the feet firmly on the floor.

Tilt-N-Roll, Folding and Wheelbarrow Style Ladders: Do not require a locking mechanism just tilt the ladder on its wheels to move into working position
Tread Selection Guide

Expanded Metal Tread: This aggressive tread is ideal for the shop or retail floor. This design is self-cleaning allowing dirt to fall through the tread. This helps keep footwear clean improving slip resistance. This is the most popular tread for rolling ladders.

Perforated Tread: Provides excellent slip resistance. This tread design is used extensively in retail and storeroom applications.

Serrated Tread: The most aggressive. This tread design is ideal for the shop floor or any application where maximum slip resistance is required such as a wet and slippery environments

Abrasive Mat: Provides excellent slip resistance. This tread design is the best for the office, retail or the stock room as well as areas with less dirt.