Router bits are cutting tools with specific geometry for use on wood, plastics, nonferrous metals and some composites. Routers offer high feed rates, heavy depths of cut and better finishes. Ideal for use in CNC routers, machining centers and milling machines. Router Bit Sets are also available.
Diagram of a Router Bit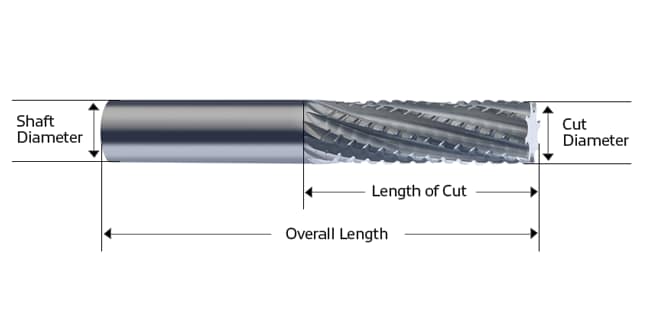 Flute Geometry of a Router:


Single flutes are for faster feed rates in softer materials.
Double flutes are for better finishes in harder materials.
Straight flute offers a neutral cutting action, which creates higher cutting forces than a spiral flutes.
Upcut spiral flutes are for grooving or slotting. They are ideal for an upward chip evacuation and offer a good finish on the bottom side of the part.
Downcut spiral flutes help eliminate part lifting and are ideal for downward chip flow. They offer better hold down in fixture and offer a good finish on the top side of the piece part.
Up/Down spiral flutes are for double-laminated material and offer a good finish on the top and bottom side of the piece part.
---

End Types: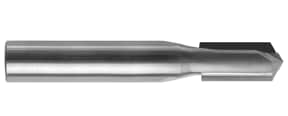 Drill points are ideal for producing clean cuts in aggressive milling applications. Some drill point bits are made of composite material for increased tool performance.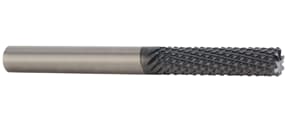 Burr end router bits are used for bottom cutting and producing floor finishes on the part where minimal material needs to be removed. They are used in very light applications.

End Mill router bits are used for bottom cutting and are designed to produce a smooth surface with a square corner.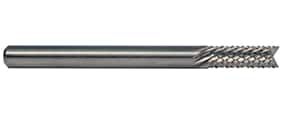 Fishtail ends are designed with a double flute (or reverse V-shaped ends) and produce a flat surface at the bottom of the workpiece. Ideal for fine detail work and on thin materials.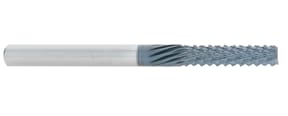 Plain (No End), also known as safe end router bits, are used for edge routing and applications when no floor finish cuts are required.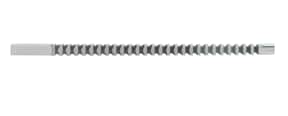 Square ends are used for general milling applications, including slotting, profiling and plunge cutting.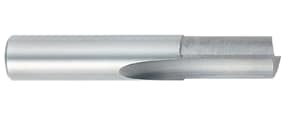 Center-cutting router bits are designed with a straight flute and used for general-purpose milling applications. Commonly used on fine milling of metals or milling of nonferrous exotic materials including Carbon Fiber Reinforced Plastic (CFRP).

Powdered Metal (PM) is tougher and more cost effective than solid carbide. It is commonly used on highly abrasive materials, including high silicon aluminums.

Carbide tips cut faster than high speed steel. They are commonly used on ferrous and nonferrous materials, including cast iron, steel and steel alloys.

High Speed Steel (HSS) provides good wear resistance. It is commonly used for general-purpose applications on both ferrous and nonferrous materials.

Solid carbide is used for high-performance applications. It is extremely heat resistant and used on cast iron, nonferrous metals and other tough-to-machine materials.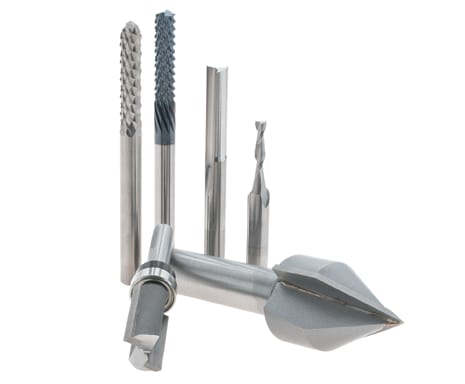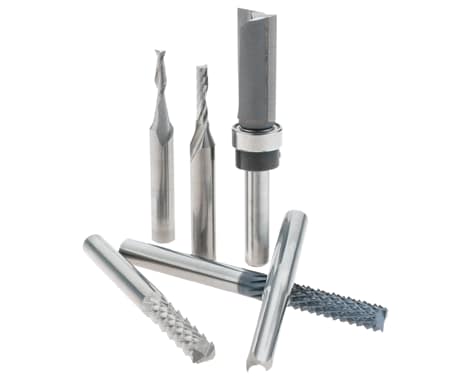 Bright provides a smooth, polished finish on the tool. It increases chip flow in softer materials such as aluminum, wood and plastic.

Aluminum Titanium Nitride (AlTiN) is one of the most abrasive resistant and hardest of the coatings. It is commonly used for machining aircraft and aerospace material, nickel alloy, stainless steel, titanium, cast iron and carbon steel.

Polycrystalline Diamond (PCD) is commonly used on aluminum, concrete, fiberglass, plastic, stone and extremely difficult-to-machine materials. It has high hardness and is resistant to abrasion.

Titanium Nitride (TiN) is a multi-purpose coating that increases chip flow in softer materials. The heat and hardness resistance allows the tool to run at higher speeds than uncoated tools.

Titanium Carbonitride (TiCN) is harder and more wear resistant than TiN. It is commonly used on stainless steel, cast iron and aluminum alloys.

Uncoated tools do not feature supportive treatments on the cutting edge. They are used at reduced speeds for general applications on non-ferrous metals.

Zirconium Nitride (ZrN) is similar to TiN, but has a higher oxidation temperature. It is commonly used on nonferrous materials, including aluminum, brass, copper and titanium.

Soft plastics are routed by removing long curls from the surface of the material being machined, so they tend to respond best to "O" flutes.

Hard plastics require a routing tool to chip the material off in small individual chunks, so bits with a straight rake face geometry usually do the job best.

Reinforced plastics such as polyester and epoxy can add extra rigidity to the material, making it extremely difficult to machine. This requires a router with either a high rake angle and high clearance (to cut freely with less heat build-up) or a strong cutting edge with a low rake angle to reduce chipping (though it will increase heat build-up). PCD tools are commonly used in reinforced plastics due to their high wear resistance.

Mechanical plastics are specifically created so they meet an application need. This can be strength, resistance to chemicals, high-heat applications, etc. These materials machine similar to a soft plastic and respond best to "O" flute tools.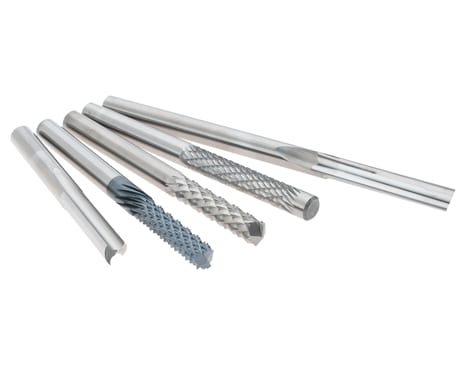 Cutting diameter refers to the measurement of the tool's cut. Use the largest diameter possible for added strength and rigidity.

Shank diameter is the diameter of the back end of the drill to be chucked or held.

Length of cut is measured from the router tip to the beginning of the neck or shank.

Number of flutes refers to the number of grooves or valleys that are cut into the body of the tool. A higher number of flutes increases the strength of the tool and reduces space or chip flow.