Safety Cabinets Technical Information

Basics of...Safety Cabinets
Improper storage and handling of flammable and combustible liquids is the leading cause of industrial fires in the workplace. Storage of these hazardous chemicals in safety storage cabinets can help: eliminate facility damage, protect personnel, improve workplace efficiencies, meet federal, state and local fire codes and comply with federal OSHA regulations.
Compliance and Regulatory Requirements
Approved cabinets are required by OSHA and UFC (Uniform Fire Code) codes in commercial and industrial facilities where flammable liquids are used or stored. The National Fire Protection Association (NFPA) establishes construction, performance, safety and quality standards. The NFPA Code 30 and OSHA 29 CFR 1910.106 (Flammable & Combustible Liquids Codes) are evaluated by either Factory Mutual Research (FM) Approval Standard 6050 or Underwriters Laboratories (UL) Standard 1275 for approval. The following is a brief description of the minimum criteria required to meet these standards:
Maximum total storage capacity - 120 gallons (455 L)
Minimum steel thickness of 18 gauge (0.048")
Double wall construction with 1 1⁄2" (38 mm) airspace
All joints welded, riveted, brazed or equal
Doors with 3-point, non-sparking, locking mechanism
2" leak-tight spill sump of at least 2" deep (51 mm)
2 – 2" vents with flame arrester baffle and plugs
Grounding wire connection on lower outside
If self-closing doors, fusible link required (212 degrees F)
Markings: Mfg name, address, model #, maximum capacity
"Flammables-Keep Fire Away" label with 2" letters
Instruction sheet, legible markings, factory I.D.
Load testing-72 hours at maximum capacity
Fire exposure test-10 minutes at 1300 degrees F
Continuous piano hinges
Shelf capacity rating of at least 350 lbs.
Door Styles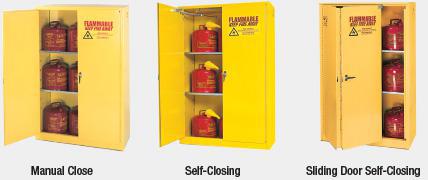 Safety cabinets are available in one or two doors and in 3 different door-closing styles: Manual, Self-Closing and Sliding Door-Self-Closing. OSHA codes accept any of these styles, however, States that have adopted the Uniform Fire Code require self-closing doors, which provide an extra measure of protection.
Cabinet Capacity
Safety cabinets are available in sizes/capacities ranging from 2 gallons up to 120 gallons. Stated sizes and capacities are based upon the type of container being stored, such as 12-ounce aerosol cans, 1-gallon paint cans, 5-gallon gas cans, 30-gallon drums or 55-gallon drums. For example, a 45-gallon flammable storage cabinet will hold 9-5 gal containers. Cabinets are available in several styles such as floor, counter-top, under-counter, wall-mount, space saver, stackable, drum storage and with legs. All styles have adjustable shelves to accommodate various container sizes.
Chemical Storage/Cabinet Colors
Colors help separate, organize and identify the chemicals inside. This organization will assist first responders in the case of an emergency. Regulatory codes do not specify safety cabinet colors. However, industry has accepted the following standards:
Yellow - Flammable Liquids
Red - Combustible Liquids
Blue - Acid & Corrosive Liquids
Construction Materials
Safety cabinets are available in baked-on powder coated steel with steel shelves for flammable/combustibles, acids/corrosives and pesticides/insecticides and also in polyethylene for aggressive acids such as nitric, sulfuric and hydrochloric. There are also many accessories available for safety cabinets such as poly shelf liners, shelves, bonding/grounding wires, dolly carts, ramps, self-closing kits, roller conveyors, etc.