Spring-Loaded Devices Technical Information

Basics of...Spring-Loaded Devices
A Spring-Loaded device is a mechanism that adds value to a spring by encapsulating it in a body and providing a plunger tip or ball on one end which allows for accurate and repeatable end forces.
Why Use a Spring-Loaded Device?
One subassembly replaces multiple components
Allows simple side loading (not possible with springs)
Accurate & repeatable end forces
Repeatable projection
Easier to install than standard springs
Minimal spring compression set
Plunger Main Categories

Standard Spring Plungers: Feature long travel and large bearing surfaces that prevent blinding and assure perfect alignment at any extension. Great for a wide range of applications.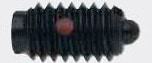 Stubby Spring Plungers: Compact unit provides considerable plunger travel and high end forces ideal for applications where space is restricted. Offer greater travel than Ball Plungers and less travel than Standard Plungers.




Ball Plungers: Smallest & Lightest Spring-Loaded Device.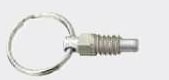 Quick Release Plungers: Available in many retractable plunger designs that can be easily withdrawn and re-engaged. Six Types: Knob, Knurled Knob, Hex Drive Knob, T-Handle, Pull- Ring, & Lever Type.

Push-Fit: Designed for easy installation into wood, soft plastic or aluminum. Ideal where a threaded ball plunger is NOT practical or when threaded adjustments are not required.





Flangeless Push-Fit: Innovative design features no flange on ball end allowing the plunger to be inserted into the workpiece from the top or the bottom, front or back. Excellent for use where less clearance is available.




Hexnose Plungers: Can be utilized with a hex wrench to speed up installation or removal process. Offer greater travel than Ball Plungers and less travel than Standard Plungers.




Long Travel Plungers Ideal for High Speed, long life applications
Materials
Carbon Steel: Provides better wear resistance of the plunger tip due to case hardening & is less expensive than Stainless Steel
Stainless Steel: Excellent for corrosive environments, food processing & high temp. applications (spring can withstand 600o F)
Nylon or Delrin®: Will not mar softer materials such as: Aluminum or Brass
Phenolic: Will not mar softer materials such as: Aluminum or Brass, but is more brittle than Nylon or Delrin®
Finishes
Zinc Plate: yellow, clear or black chromate conversion coat
Black Oxide: Retains lubricants to aid in wear resistance
Additional Information
End Force:Spring-Loaded devices are designed to exert a precise end forcein the correct place at the correct time. End forces range from 125 to 200 lbs.
Travel:This is the range of motion of the Plunger or Ball. Through range oftravel, end forces increase from initial to final as the plunger or ball is depressed
Thread Sizes:
Class 2A Thread - Unified ANSI
Class 6g Thread - Metric

Locking Elements: Forces threads on the opposite side of a spring-loaded device tocompress against the mating threads of a tapped hole, providing a thread lockingproperty. They eliminate the need for checknuts, locking helicoils, or thread lockingadhesives. Max. Temp. limit: 250°F. Most Spring-Loaded Devices are availablewith or without a Nylon Locking Element.
Types:
Nylon Pellet: 5�?�16" and larger
Nylon Patch: 1/4" and smaller
5 Steps to Selecting the Right Spring-Loaded Device:
1 Select the type of Spring-Loaded Device for your application
2 Select appropriate end force for application
3 Select material, Carbon Steel, Stainless Steel, Phenolic, Nylon or Delrin®
4 Determine if you need a Locking Element
5 Select the appropriate thread size (hole diameter)