Storage Racks Technical Information

Basics of... Storage Racks
Racks are used for storage of large and heavy unit loads in a container, on a pallet or loose. Seismic requirements, building codes and local ordinances should be checked before your order is placed.
The table & map below show zones 1 (least risk) to 4 (extreme risk). The requirements are stricter for structures with higher numbers. It is highly recommended to use the seismic requirements when building rack systems because it will help protect against catastrophic loss and is essential in high earthquake risk areas. Taller rack systems, as well as higher density, narrow aisle systems will only magnify the risks in the event of a collapse especially in seismic zones 3 & 4. For any new construction or renovation in seismic zones 3 & 4 it is recommended that your local building department be consulted for any up-to-date code restrictions in your area.
Seismic rated racks are constructed differently than conventional racking. They feature more ability to resist seismic pressures because of engineering and construction differences.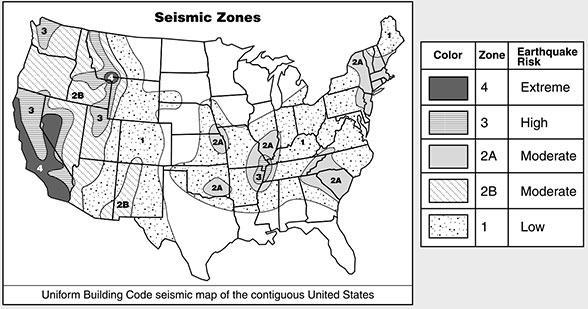 Types of Racks
Pallet Racks: Designed to store hundreds of pallets of varied load characteristics and containers or any heavy bulk loads handled by mechanical equipment. Expands useable storage space both horizontally & vertically without building expansion.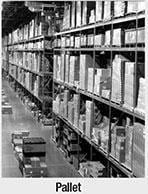 Bulk Storage Racks: Designed for intermediate weight bulk items that are hand loaded. Very versatile in applications such as display racks in factories and warehouses or storage of medical supplies in hospitals.
Welded Bulk Storage Racks: Designed to provide greater capacity for the ideal bulk storage that are hand loaded. For items that require spacious heavy duty shelving other than pallet racks or conventional industrial shelving.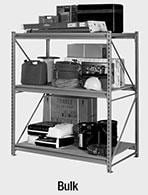 Boltless Storage Racks: Designed for light weight bulk items that are hand loaded. One of the most versatile and economic storage methods available. Quick and easy assembly, no bolts or clips required. Shelves are accessible on all four sides. Ideal for record storage, large and bulky items, warehouses and shipping areas.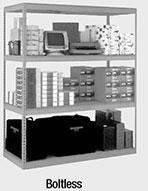 Decking Type:
Wire Decking: Easy to install, designed to handle heavy-duty bulk storage. Provides a clean and safe storage platform. Reduces fire hazards because stored items are easy to see. The efficiency of sprinkler systems is enhanced and may be mandated by fire codes.
Steel Decking: Easy to install. Designed to handle your heavy-duty storage needs. Items that are bulky and heavy, slide on and off the shelf much easier.
Cantilever Racks: Designed for heavy-duty storage of long, heavy materials such as flat sheets, bars, pipe, tubing or lumber; loaded by hand or mechanical equipment.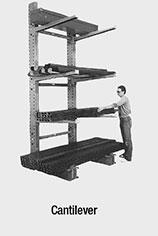 Modular Portable Bar Stacking Racks: Designed for very large bulky items that can be stacked one on top of the other without the worry of damage from compression. Removal of materials is fast and convenient. This low cost storage system is space efficient, low in maintenance and easy to install.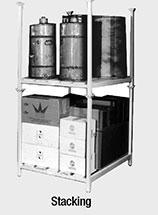 Horizontal/Vertical Bar Racks: Designed for light- duty storage of long items. Recommended for maintenance departments, storage areas, tool rooms and machine centers.
Vertical Racks: Frees up floor space because it efficiently holds and displays long stock as well as short parts or boxes. Dividers are created by the rack arms that extend beyond the shelf.
Horizontal Racks: This rack can be used in a continuous row or as a storage island. The angled arms prevent items from rolling off and the pyramid shape adds stability. For longer items order more than one unit to provide support.