Tool Cabinets Technical Information

Basics of... Tool Roller Cabinets, Workstations & Chests
Drawers & Storage
A tool storage cabinet or chest with more drawers does not necessarily mean you are able to store more items than one with a fewer number of drawers. Cabinets having one or more drawers with a higher height or a larger storage compartment will allow storage of larger and bulkier items that may not fit in drawers with a lower height. For all cabinets it is recommended that heavier tools are stored in the bottom drawers to add stability when opening drawers or moving the cabinet.
Drawer Slides
Friction (conventional):Most are basically metal-to-metal sliding bars that move across each other as you open the drawers. This works well for light tool/drawer loads or for infrequent access needs.
Roller/Ball Bearing:Most professional tool cabinet users prefer and use roller/ball-bearing slides. The difference is hardly noticeable when the drawers are empty. However when there is a heavy tool load or need for frequent opening and closing of the drawers, ball/roller-bearing slides are much easier to use and handle the loads better. Roller/ball-bearing slides have metal channels with steel ball bearings between them so instead of metal sliding on metal, you have metal slides rolling bearings in between the other metal slide. The difference in opening a drawer is like night and day when the tool drawers are full or loaded with heavy items. Full Extension Drawers:These may be either friction or ball/roller bearing construction, sometimes found on some high-end professional cabinets and chests. They allow for easy access to items stored at the rear of the drawer. Some are designed for higher load capacity as compared to other type of slides.
Casters
Small Diameter Casters - 3" & 4":Typically they're easier to move when pushing a small light cabinet on a smooth floor over a short distance
Larger Diameter Casters - 5'' and larger:Are better for heavier loads. They can absorb more shock and impact from rough floors or uneven pavement, which means less stress on the tool cabinet and box internals. They usually last proportionally longer and wear better due to the larger diameter as compared to smaller casters. They allow easier movement over rough floors, floor heaves or transitions, bumps or obstacles
6 Wheeled or Castered Workstations and Maintenance Carts:Several larger units come standard with either oversized wheels or additional casters that are centered providing maximum stability and maneuverability when they are pushed to the work area.
Locking Systems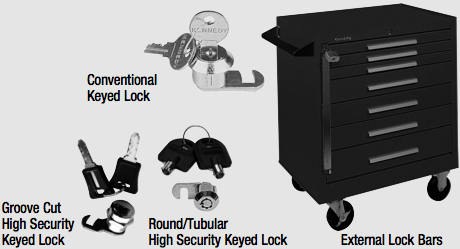 External Lock Bars:Lower end priced cabinets and chests usually have an external lock bar that requires the use of a purchased lock by the user. The lock bar is typically mounted in a way to deter most common thieves. Lock bars are functional, inexpensive and obvious. These are usually found on homeowner or hobbyist tool carts or project centers.
Conventional Keyed Locks:The most common on professional units. They are found on retail, industrial and automotive professional tool cabinets and chests. They are cost effective and usually very secure.
Round/Tubular High Security Keyed Locks:Usually found on high-end professional cabinets and chests when security is very critical. The keys and lock openings are shaped round and the key has slightly different notches or pins around its surface that engage with the locking mechanism. Typically they are constructed of heavier gauge steel than conventional locks and considered to provide a higher degree of security and be more difficult to pick with common tooling.
Groove Cut Keyed Locks:This type of lock is usually associated with expensive sports cars. A slightly wider key engages the lock on multiple levels providing additional security. The technology behind this locking method is much more difficult to defeat with common tools.