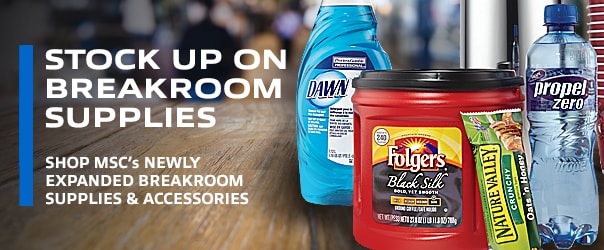 Shop MSC's newly expanded breakroom supplies and accessories. Everything needed to equip your breakroom, including a wide variety of snacks, coffee, beverages, cups & utensils, appliances and everything in between.
Hot Beverages & Equipment
Create a positive work environment by offering coffee, tea and hot chocolate in your breakroom. Along with the right brew, make sure you're stocked with creamers, filters, stir sticks and other convenient hot beverage accessories.
Beverages
Energize your workforce with our wide variety of thirst quenching beverages. Select from water, juice or energy drinks to ensure your team is hydrated, recharged and keeping your operations flowing smoothly.
Disposable Tableware
Turn your breakroom into a place of ease and convenience with disposable tableware. Whether it's foam, paper or plastic, we offer a wide variety of bowls, cups, plates and utensils.
Breakroom Appliances
Breakroom appliances are necessities for a successful and stress-free work environment. Store food and drinks in mini-fridges as well as heat up food in microwaves. Select the right appliances for your facility.
Food Storage
Make sure your breakroom is clean and in order with the proper food storage. Select from our wide variety of sandwich bags, plastic wrap and aluminum foil.