Torque Safety
Electronic torque wrenches, also called digital torque wrenches, provide a precise torque reading on a digital display to help avoid over-tightening of fasteners. These torque wrenches operate by means of an internal electronic strain gauge with digital readout. Torque value settings can be heard with a beep, haptic feedback and/or seen digitally.
Applying accurate torque is critical to assembly applications, engines and precision equipment. Creating a proper clamp load is the main objective when applying torque to a fastener.
There are three main factors that affect the correct application of torque:
Condition of components
Accuracy of torque instrument
Properly applied torque values
Applying torque incorrectly can lead to stripped threads, premature loosening or broken fasteners that can cause catastrophic failure.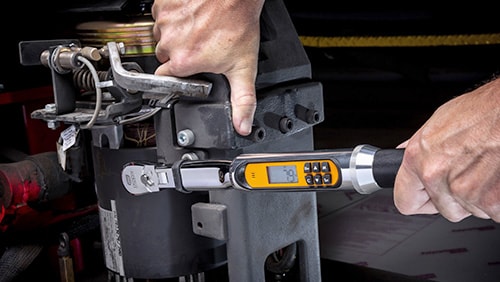 Check the torque wrench before use

Each component of the torque wrench should be in place securely. Before use, exercising your torque wrench is a good idea. This should be done at least 3 times at full-scale level. After exercising your torque wrench, you will be able to determine whether movable components of the torque wrench are operating in the right direction.

Proper wrench selection

Choose a torque wrench with roughly twice the capacity of the torque being applied. For an application of 100 ft./lbs., choose a 200 ft./lbs. wrench. If a 200 ft./lbs. wrench is not available, then a 250 ft./lbs. would work as well. The "sweet spot" of a torque wrench is between 40% and 80% of the maximum scale (for a 250 ft./lbs. wrench, between 100 and 200 ft./lbs.). Avoid choosing a wrench that will be used at the bottom of the scale and at the top of the scale.

Proper socket use for torque wrench safety

Cracked sockets showing signs of wear and tear should not be used. Socket sizes should be the appropriate ones to handle the nuts as well. Maintain a safe distance from sockets when applying the torque wrench.
Benefits of Using Electronic Torque Wrenches

Cut application time
by 50%
- Increase productivity
by applying torque via a motor first
- Achieve final torque
by hand
- Eliminate repetitive motion for faster installation

Ensure accuracy
within +/- 2%
- Precise accuracy meets required specs
- Visual indication for
your torque
- More accurate than
click styles

Generate reports in less than 30 seconds
- Save an unlimited number of events
- Easily customize and organize reports
- Simple one-button reporting

Same calibration level as all other torque wrenches
- Calibrate every 12 months or 5,000 cycles
- Certification saved and available via paper record
- No need to reset to 0
after application

Ease of use


- Use one tool instead
of two
- Quickly change between ft./lbs., in./lbs., Nm,
and Kg-cm
- Creates less user fatigue
The Do's/Don'ts of Electronic Torque Wrench Safety
Do's:
Read instruction manual before using your torque wrench.
Properly inspect your torque wrench before using.
Make sure the direction lever is fully engaged on the ratchet.
Always grip handle firmly in the center of the grip.
Don'ts:
Do not push to apply torque, always pull.
Do not use with sockets or fasteners showing wear or cracks.
All mechanical torque wrenches are calibrated from 20% to 100% of full scale. Therefore, they should never be used below or above those limits.
Continue to pull when the target torque is reached.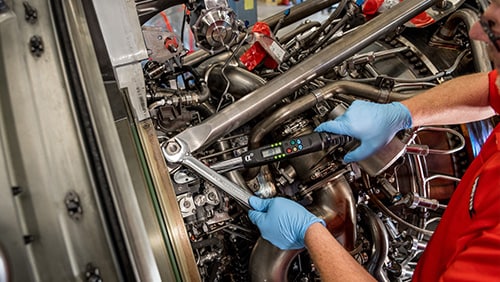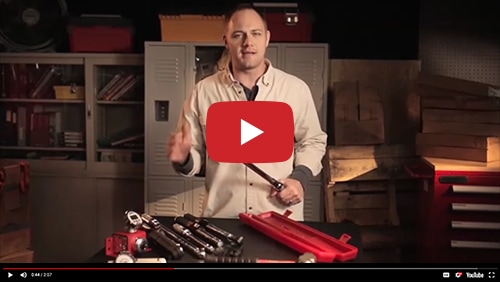 Torque Wrench Safety
Torque wrenches are not your typical wrench. They come in a number of different sizes and types: dial, micrometer and electronic.
Watch the Torque Wrench Safety video