CRC H1 Food Grade Aerosol Lubricants with Perma-Lock® Cap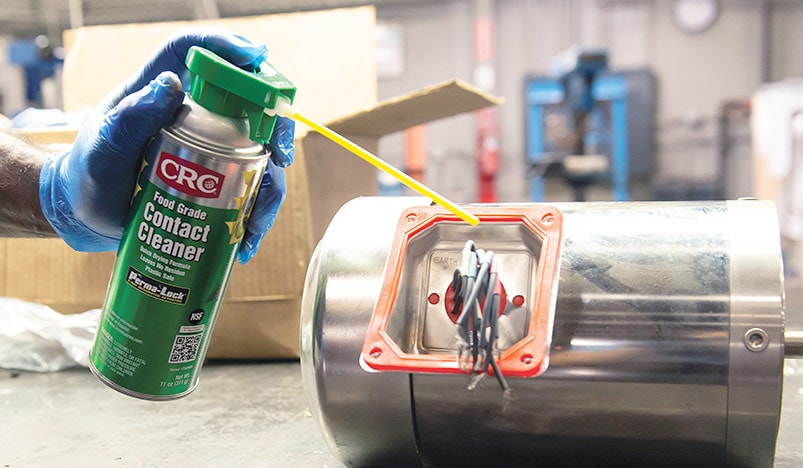 Revolutionary Perma-Lock®
2-Way Integrated Actuator
CRC Industries has over 75 food grade maintenance products within the NSF H1 category designation. These items are approved for use where incidental food contact might occur. Understanding the importance for continuous improvement in food safety, CRC has introduced a new label design for all CRC H1 Food Grade Lubricants to ensure proper usage of these products in the workplace. In addition, CRC H1 Food Grade aerosol lubricants utilize the revolutionary Perma-Lock® cap – a one-piece, 2-way integrated actuator that will not detach.
1

Silver Band

Quick visual identification of CRC Food Grade products from across the plant floor with unique silver banding.
2

StopLight® Food Safety Program Graphic

Green StopLight image immediately identifies the product as safe for incidental food contact.
3

Perma-Lock® 2-Way Integrated Actuator

Permanent, 2-way integrated actuator offers two spray patterns. Flip straw down for wide spray pattern; flip straw up for a precision application. Perma-Lock® cap will not detach, safeguarding against costly recalls. No lost nozzles, straws or caps. Perma-Lock® – Prevention. Not Detection.®
4

Product Name

Clear and descriptive product name provides immediate recognition of use.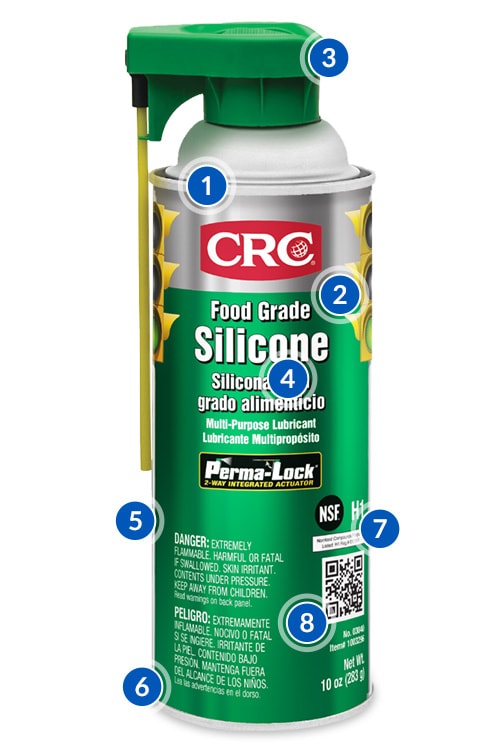 5

S.D.[L.]® Safety Data Label

Current Safety Data Sheet printed on the reverse side of aerosol product label – a CRC exclusive – puts disposal, first aid and important safety information right at your fingertips.
6

Dual Hazcom Warning (English and Spanish)

Labels are GHS OSHA (Global Harmonized System) and CPSC (Consumer Product Safety Commission) compliant.
7

NSF Logo and Number

NSF Category Code and registration number prominently displayed to aid during the inspection process.
8

QR Code

Instant access to mobile-ready product detail page that includes: Product Data Sheet, Safety Data Sheet (SDS), NSF Letter, ROHS, Food Certificate, and Allergen Certificate.
The Revolutionary Perma-Lock® 2-Way Integrated Actuator
Understanding the importance for continuous improvement in food safety, and reducing expensive recalls, many CRC food grade products utilize the revolutionary Perma-Lock® 2-Way Integrated Actuator that will not detach, reducing the chance of foreign object contamination. This unique design offers two spray patterns to make application easy: flip straw down for wide spray action and flip straw up for precision application.

Watch the video