Natures Solution
---
Clean Your Facility with Green Products that Promote a Healthy Environment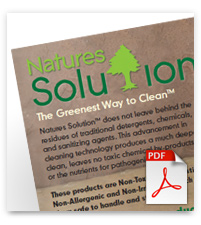 MSC now exclusively carries... Natures Solution™ Bio-Organic™ cleaning products which are safe for the environment!
Natures Solution™ is MSC Industrial Supply's exclusive brand of cleaners that provides a superior solution to green-cleaning needs when it comes to delivering performance and value.
The Natures Solution™ mission is simple; create " clean-green" products that will NOT harm the environment, will outperform traditional cleaners and are cost competitive. Natures Solution™ is truly a breakthrough in "clean-green" technology. The active ingredient is a Bio-Organic Catalyst™ which is 100% natural and will actually enhance nature's cleaning methodology; therefore, it is harmless to our environment!
These products are: non-toxic, non-irritating, non-caustic, non-corrosive, non-allergenic, bacteria free, phosphate free and biodegradable. The product offering includes all-purpose cleaners, cleaner/degreasers, glass cleaners, hard-surface floor cleaners, and vehicle and parts rinses.
Click here to see the dilution ratios for Natures Solution products.
See how safe Natures Solution really is by checking out how we compare to other cleaners in the market.