Receive your VMI orders faster than ever with Automatic VMI
Improved Delivery Times
Ease of ordering improves order processing time getting your order to you faster.
Flexibility & Control
Built in functionality to utilize your Blanket PO and you can turn Automatic VMI on/off in My Preferences .
Visibility
Keep track of your orders via Order History.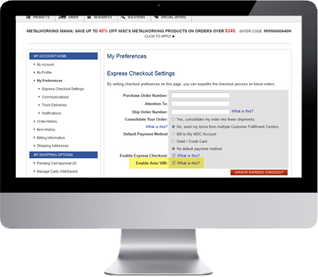 Enroll in Auto VMI
Enroll in Auto VMI* by visiting the
My Preferences section of the website.
*Express Checkout must be enabled to take advantage of this functionality.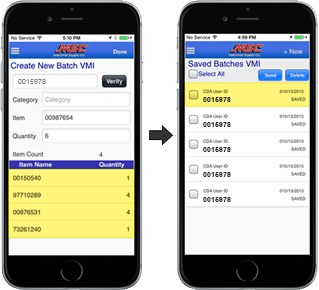 Scan & Upload
After you've enrolled in Auto VMI, all future scans will be ordered automatically.*
*We'll alert you of any errors via email, allowing you to correct and place the order on MSCdirect.com.
It's as simple as that!
You will receive your Order Acknowledgement and Shipping Notification emails as you have in the past.
FAQ's
Can Blanket PO's be set up to limit a dollar amount?
No, Blanket PO's cannot be set to a threshold amount.
Can I set a P-card as my default billing method in Express Checkout when I enable Automatic VMI?
Yes, a P-card can be set to be the default billing method when you enable and setup express checkout.
Is my Sales Rep also alerted of an error on the order?
No. You will be alerted of the error via email and directed to MSCdirect.com to correct and complete the order.